Great News for all TM customers! TM is offering a year end sale for New Registration to TM Broadband service effective from 23rd November until 31st December 2012. Customers now will enjoy
FREE 30 days subscription fee when they sign up for UniFi or Streamyx during this promotion period.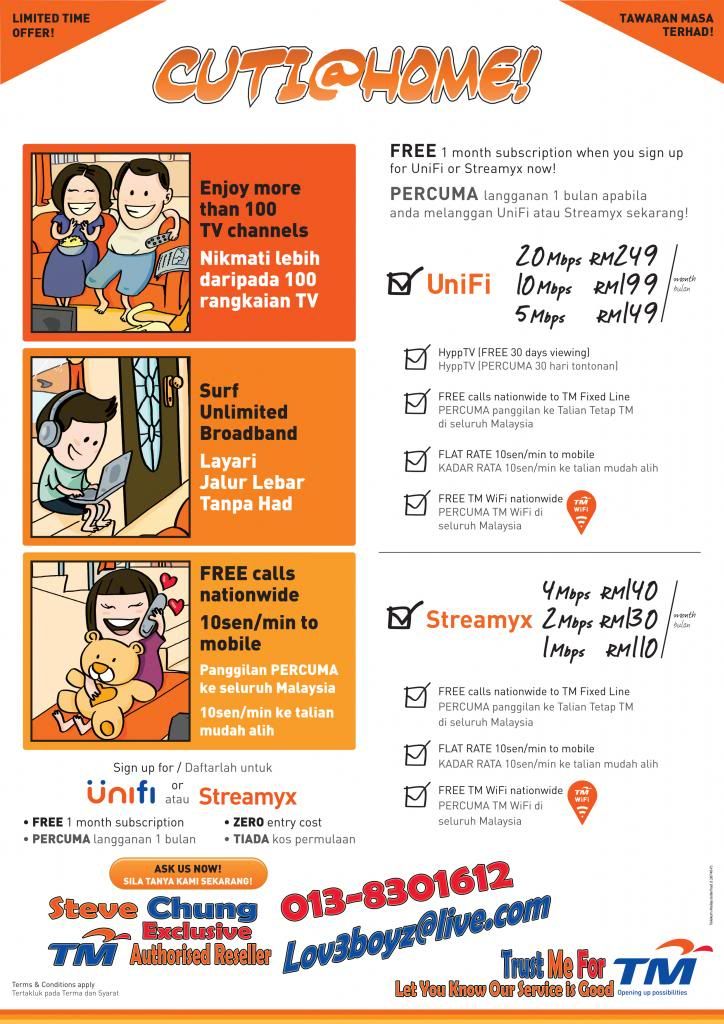 UNIFI IS HIGH SPEED INTERNET THAT USING FIBER OPTIC TECHNOLOGY,BRING IPTV (HYPP TV).
FREE GIFT = FREE INSTALLATION & EQUIPMENT THAT WORTH RM 1000*
Unifi Internet register here, easy and fast confirmation. Just a simple few step. Previous Streamyx user always can apply here and enjoy the 1st 3 month pay same price for your Unifi package. Previous Unifi user that want to update the speed also can apply here ( For Unifi user only * Update speed can done in 24 hour) Faster REGISTER Service here! WHAT ARE YOU WAITING FOR ?
Cannot imaging How fast the speed of Unifi, 500mb movie just 1-3 minute only for 20mpbs…Everyone want Ferrari, not Proton Faster Sign Up your own Ferrari (Unifi) now you can own it just From RM149 Only *Just Kidding
Unifi package : (Unlimited download for all Unifi package *)
VIP 5 ( Rm 149, 5 Mpbs download speed)
VIP 10( Rm 199, 10 Mbps download Speed)
VIP 20( Rm 249, 20 Mbps Download speed)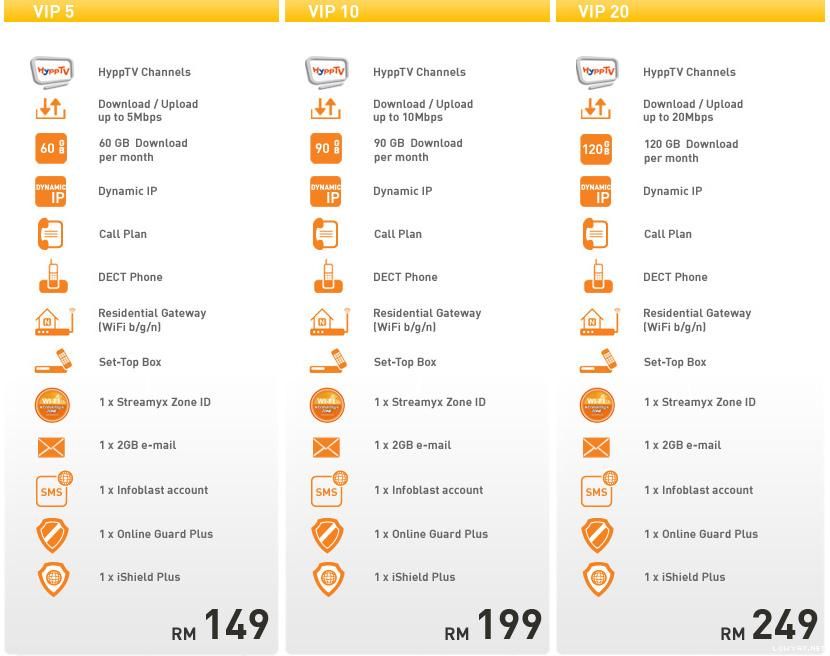 Free installation and equipment worth RM 1000 for limit time only! Fast sign up
The 8 reason register with us
24 hour register service and system
We also Have Home By Home Registeration Service ( Let you know more about Unifi Fibre Optic, Term & Condition)
No need queue at TM point centre
Save your petrol and parking fee
Fast confirmation installation date (date can be adjust by customer)
Always follow up customer cases until installation is complete.
FOR Foreigner No Need to pay deposit start From Now…Every one can Having a high speed broadband, Every day Enjoy the High Speed Internet
More Than 400,000 Customer Trust Us
What the different Maxis with Unifi ?
Speed of maxis no stable. Many Place of Maxis Area (Mean Cannot Install Other boardband Service) at puchong, Selangor was complaint Maxis was too Slow Such as Tempua. All Customer want change to TM Unifi When their Contract are finish. If your Place many unifi User than Maxis user, Speed also will be slow down. I know 10 Mbps of maxis Fibre Home is cheaper but don have good speed for our Working use or Gaming ? Everything here is experience from my customer. Please think about it, if you got a friend ask more opinion about it before make decisions.
Faster Service register system are provided, Just sent by Sms or Email. Some simple information for registeration of Unifi Such As :
1)Full Name As NIRC/ Passport :
2)NIRC No / Passport no :
3)Full Address :
4)Email :
5)Mobile Phone No :
6)Package :
15 minute Sign Up Service* : After 15 minute you will Receive your Unifi Information Order From TM.
TRUST ME For TM , We Serve You With Our heart.
Please call or MSG : 013-8301612 ( Steve ) or Email me : Lov3boyz@live.com