Jacqueline Mars, the 73-year-old heiress to the Mars Inc. fortune, was identified as the driver involved in a fatal car crash in Virginia on Friday. Based on the latest Forbes figure, she is the third richest woman in the United States and the 32nd wealthiest person in the world with a net fortune of US$20.5 billion. According to police reports, Jacqueline car, a 2004 Porsche SUV, crossed the center line on Route 50 in Aldie town at about 2:30 pm, striking a 2013 Chrysler minivan. 86-year-old grandmother Irene Ellisor, a backseat passenger in the van, died at the scene. Five other people were hospitalized, with one pregnant victim lost her an eight-month-old unborn baby.
http://www.washingtonian.com/gallery/assets_c/2012/06/edit-OperaBallEvening-DSC_7333-thumb-autox400-40990.jpg
Heiress to Mars empire (center) killed a grandma, an unborn baby and injured 5 other people in car crash
Jacqueline, the 15th-richest person in the U.S., was taken to a local hospital and has since been released. No charges have currently been filed, and the case is pending review by the Office of Commonwealths Attorney. The Mars family is the sole owner of confectionery company Mars Inc., the 3rd largest-privately held company in the United States. They were ranked by Fortune as the richest family in America in 1988, but has since surpassed by the Walton family.
Other prominent American families such as the Rockefeller, DuPont, Vanderbilt and Astor no longer rank as high, firstly due to that family fortunes have been divided among descendants after hundred of years, secondly because of inflation. Their lineage still remains wealthy though. By the time of his death in 1937, John D. Rockefeller was estimated to worth US$1.4 billion, and Fortune estimation in 1986 put the total Rockefeller wealth at US$3.5 billion, with the family claiming US$5 billion as of now. Conspiracy theorists however, said the true figure was in excess of US$5 trillion - equivalent to the GDP of Japan. The Mars family are estimated to worth US$60-70 billion in 2013.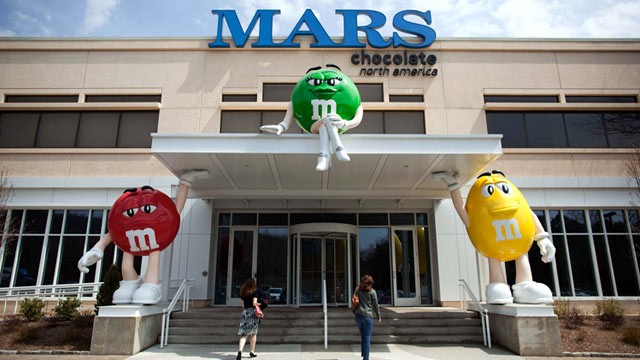 Mars Inc. is the world's largest candy and chewing gum maker
Mars Inc. is the worlds largest candy maker, its biggest cocoa user, and after the 2008 takeover of the Wringley Company, the no.1 chewing gum producer. Major brands include Milky Way, M&M's, Twix, Skittles, Snickers, and the Mars bar. They also produce non-confectionery snacks, such as Combos, and other foods, including Uncle Ben's Rice and pasta sauce brand Dolmio, as well as pet foods, such as Whiskas and Pedigree brands.
A spokesman for Mars said Jacqueline was recuperating at home after being hospitalized for her injuries. This tragedy has left Jacquie filled with sorrow for the loss of life and those who were injured, spokesman Kent Jarrell said in the statement. She would like to express her deepest condolences to the families involved. Ellisors family confirmed that the grandma and six other relatives drove to Virginia on Thursday to attend a wedding. She was just a real caring person, loved her family, Bryan Ellisor told the news station. She still had a lot of life left in her.
http://l.yimg.com/bt/api/res/1.2/cXmYSBsFUeqHgYpwgc7stw--/YXBwaWQ9eW5ld3M7Zmk9aW5zZXQ7aD00MjE7cT04NTt3PTYzMA--/http://media.zenfs.com/en-US/blogs/partner/2592494.jpg
Alice Walton, another billionaire, killed a mum in crash and hit a petrol station
Mars isnt the first high-profile billionaire to be involved in a fatal car crash like this. Wal-Mart heiress Alice Walton, from the all-powerful Walton family, struck and killed Oleta Hardin, a 50-year-old mother of two who stepped into the road in Fayetteville, Arkansas in 1989. No charges were ever filed in that case. In 1998, she again hit a petrol station while driving under the influence. She paid a US$925 fine and served no jail time. Alice Walton is the second richest woman in the U.S. after sister-in-law Christy Walton, and the 16th in the world. She is estimated to worth US$33.5 billion, and the family over US$160 billion.
Source:
http://www.forbes.com/sites/briansolomo … andmother/
http://www.dailymail.co.uk/news/article … rsche.html
http://www.nydailynews.com/news/nationa … -1.1480290
http://www.huffingtonpost.com/2013/10/0 … 69696.html
http://www.abc15.com/dpp/news/national/ … r-accident