Something that we should know about.
stop 114a …
this will be another strong reason not to vote BN.
vote Pakatan and if this Bill becomes law, Pakatan must repeal it.
one of the concept of the universal declaration of human rights is that a man is innocent until proven guilty and this bill is 'reverse gear' of this concept. the onus of the burden of proof will be on you and the prosecutor and judge will geli-hati have a field day making a football and a certified fool out of you.
what is this country coming to and has all our law makers gone mad?
[quote="Ryunaruto"]beware…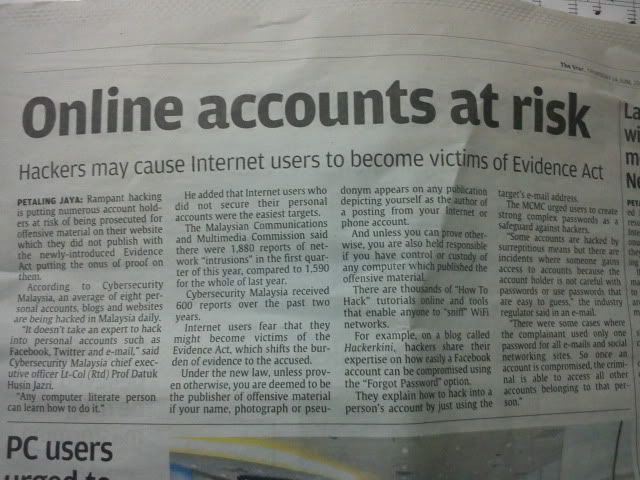 btw…video removed…:/[/quote]
Be End wants to use this bill to suppress the People from voicing out
all the wrong doings of Be End and so forth…
Best Democratic country my foot…
Evidence Acts actually a stupid act anyway. Obviously those experts guys working at so call cyber jaya never heard of John the ripper, Hydra, air-crack-ng, wireshark, reaver and Back Track. Some of MC Net should know what I'm talking about. Lagi modem pakei default password tmuser janganlah lok pakei Act tok…