Pikom PC Fair coming this Friday till Sunday. Below are the participating companies for this year fair.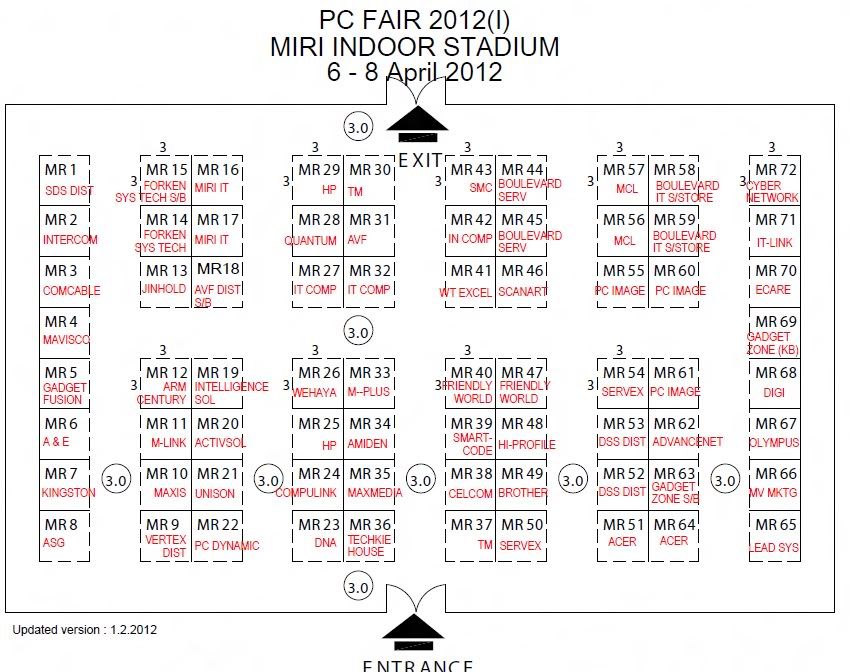 what is the 3.0 in the circle mean?? just wonder…
Not sure. I just got the map from PIKOM website.
owh…i thought u 1 of the committee…hahah
whatman always got the good stuff…haha…thanks for the info man…
i think the 3 meaning 3m apart
wow… so many co. participating… nice…
went pc fair every year without buying anything… hope can buy something in this… looking for driving force gt…
I'm looking forward to see android media players!
hopefully not disappointing
i'll be pissed if there is like more than 5 promoters promote BROADBAND BROADBAND on my face.
then u will die if u go KL's PCFair…
can simply juz ignore them walk by ma…so pissed buat ape.lol
What you guys want to see in PC fair?
looking forward to see more models of Edifier,Creative speakers…
I'm hoping for some cheap ssd
preferably less than 500 for a corsair force 3 120gb
Gonna be the same old sh*t they have every time.
looking forward to it. But i noticed TM occupied 2 entrance door meaning…orange shirt will be the first to get seen the moment we step inside. Hope they have good quality and informative part-timer, not to count out good looking one. hehe.
Boulevard IT Superstore and PC Image is neighbour… that area better dun go :lol: stress area
same old same old PC fair with difference discount only… don't like! no new gadget/stuff…