Philippines getting richer, but income disparities widening
Just three years ago, a new car and an overseas holiday were unthinkable luxuries for J. Ante and her family of six. But the insurance manager's commissions have soared since then as the Philippines, held down for a generation by venal and incompetent leaders, unexpectedly boomed, putting middle class comforts now within reach of many. Surpassing all expectations, the Philippines is now Asia's fastest growing major economy, with a growth rate outpacing even that of China.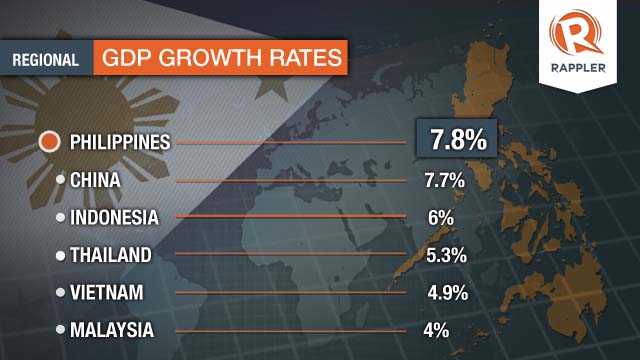 Philippines - Asia's fastest growing major economy
The growing affluence and a burgeoning population have lured many global brands. Students and office workers flock to gleaming outlets opened by Zara, Gap, Forever 21, Starbucks and Japan's Uniqlo. New apartment blocks are springing up on almost every corner of metropolitan Manila and other cities, often clustered around malls and office buildings housing outsourcing businesses such as call centers, which are forecast to earn around $25 billion by 2016. In 2011, Philippines call center industry overtook India as the world's largest.
Luxury car maker Rolls Royce said it was flooded with inquiries since it opened its first dealership in Manila last month. The first car selling for $605,000 went to a popular TV show host, according to newspaper reports. Finally, the country's middle class, stunted for decades by widespread poverty, political strife and corruption, is beginning to share in a wealth that once only available to a clan of Chinese businessmen known locally as the 'taipans' and the political elites.
"The past 2 years have been a big leap in terms of my total income," Ante said. "Times have become better for our family." She recalled that three years ago it was difficult to come up with the school fees for her four children. Travel abroad or a new car were impossible, but "they seem more realistic now since my income is growing at a faster rate," Ante added. The family holidayed in Hong Kong this year and a vacation in the U.S. and Canada is planned. They also hope to afford a family-friendly Toyota Innova.

Economic boom fueling middle class in the Philippines
Many credited the boom to President Benigno Aquino III, elected in 2010 on promises of eradicating graft and fighting poverty. He introduced new taxes, reformed the judiciary, and set the country on a path that shows sign of enduring. As a result, the Philippines has now enjoyed three straight quarters of economic growth above 7%. Both S&P and Fitch earlier this year upgraded the Philippines credit rating to investment grade for the first time.
Disposable income has increased, and we see a rising middle class, said Jose E.B. Antonio, chairman of Century Properties Group Inc. that brought in Donald Trump's sons and Paris Hilton to launch luxury condos in Manila. Antonio thinks it's only a matter of time before prosperity trickles down. He called for more focus on building infrastructure - roads, airports, hotels, restaurants - to support the tourism industry, which he said is a key to providing jobs for drivers, farmers, cooks and other lower-income groups.
Sheila Abay, a real estate agent with 10 years of experience, said competition in her industry has become stiffer but she still sells more condominiums these days compared to five or 10 years ago. The bulk of her clients are Filipinos working abroad, who buy property for retirement or investment.

Skyrocketing domestic consumption powers up Philippines economy
Over the last few years, Sheila said she has seen a growing number of younger clients mostly aged 25 to 35. Many of them are mid-level managers at outsourcing companies who receive good pay for doing backroom operations for international companies. "Their buying power is bigger," she added.
Aris Bonifacio's financial situation appears to be going from good to even better. The 32-year-old computer programmer has worked with the same company for nine years. Businesses has been growing and so has his salary. After years of saving, he said he was finally able to buy a brand new car in April, and now he is ready to buy a condo from a high-end developer.
Despite that, the Philippines has still a long way to go. It is only sixth among the 10 Southeast Asian countries in terms of GDP per capita. Foreign investment is also lagging, compared with Indonesia, which attracted nearly $20 billion in foreign investment last year, the Philippines managed only $2.8 billion, not far from $2.2 billion for Myanmar, a pariah state until recently. In tourism, Thailand wooed more than 22 million visitors last year, while the Philippines received a mere 4.3 million.

Poverty remains a pressing issues in the Philippines
In his speech today, President Aquino stressed on how the Philippines has been tagged as "a rising tiger" by the World Bank and "the brightest spark" by the Institute of Chartered Accountants (ICA) in England and Wales. He talked about the country's stunning growth, the stable inflation rate and its attainment of investment-grade status from two respected credit ratings agencies.
But Aguino left out 3 of the country's most pressing issues; poverty, unemployment and wealth inequalities. The latest report revealed that 27.9% of Filipinos still live under international poverty line. Not only that, the unemployment rate in the Philippines rose to 7.5%, while underemployment rate was at 19.2% - one of the highest in ASEAN. By Gini coefficiency, the Philippines is the fifth most unequal society in Asia - after Hong Kong, Singapore, China and Malaysia.
Philippine Socioeconomic Planning Secretary Arsenio Balisacan argued that while the economy has been solid for several years, local businesses only started to increase spending about a year ago. "People initially were taking a wait and see attitude, you know, one year or two years of wait and see," he said. "And you can't really blame that."

Rich-poor divide in the Philippines can be seen within the same city
Balisacan said the country's economy in the last four decades has had a "boom and bust" pattern mainly because of political instability, which has created a wary investment climate. But in recent years, the administration under President Benigno Aquino has tried to improve the country's financial reputation by cleaning up corruption and prosecuting tax cheats and officials accused of graft.
Balisacan said the government also boosted infrastructure spending, which has helped push economic growth beyond seven percent for the past three quarters. "What exactly have been the major constraints to investments, whether it's domestic or foreign? Number one that comes out is infrastructure, the quality of infrastructure," he said.
During the 1950s, the Philippines was the largest economy in Southeast Asia, and the second in Asia only after Japan. The economy suffered a great decline under the Marcos regime which ruled the country from 1965 to 1986, and whom borrowed so much money from international lenders that in 1986, the Philippines became one of the most indebted countries in Asia. A sizable amount of this money went to Marcos family and friends in the form of behest loans.

The Taipans remain in firm control of the Philippines economy
Through corruption, nepotism and embezzlement, the Philippines descended from an economic powerhouse into a poor, poverty-stricken state today. The Marcos family and cronies looted such a great amount of wealth from the country that the Filipino economy collapsed in 1984, and it wasn't until 2003 before the economy can be put back on track. Today the government is still paying the Marcos-era debts.
The grim reality remains that gap between the country's rich and poor is widening, with high-earning individuals enjoying significantly faster growth in incomes compared with people from the middle- and low-income classes.
According to data from the National Statistical Coordination Board (NSCB), which showed details of the countrys national income accounts, revealed that people from the high-income class enjoyed a 10.4% annual growth in income, while in comparison, incomes of people in the middle-income segment grew by only 4.3%, and incomes of those in the low-income group by 8.2%
http://www.bloomberg.com/image/inb.KES4zxp4.jpg
Can the Philippines turn around its economy after decades of sleep?
The ethnic Chinese, making up 1.6% of the population, are estimated to control 62% of the nation's economy, remittances from Overseas Filipino Workers (OFW) made up 8%, while political elites and other business dynasties taking up most of the rest, leaving little for the ordinary people. As an illustration of wealth disparities in the Philippines, just the 11 richest Filipino billionaires listed in Forbes 2013 single-handedly account for more than 12% of the country's economy:
The 11 richest Filipino billionaires listed in Forbes

1. Henry Sy
Net Worth: US$13.2 billion
Ethnic Group: Chinese
Controlling Entity: SM Investment Corp.
Subsidiaries: SM Prime (Philippines no.1 retailer), Banco De Oro (Philippines no.1 bank), SM Development (Philippines no.2 real estate company)
Group Consolidated Revenues: US$5.19 billion
Share on National Economy: 1.83%

2. Lucio Tan
Net Worth: US$5.0 billion
Ethnic Group: Chinese
Controlling Entity: LT Group
Subsidiaries: Asia Brewery (Philippines no.2 brewery), Fortune Tobacco (Philippines no.1 tobacco company), Philippine National Bank (Philippines no.5 bank), Air Philippines (Philippines no.3 airlines), Tanduay Holdings (World's no.2 rum maker)
Group Consolidated Revenues: US$1.64 billion
Share on National Economy: 0.58%



3. Enrique Razon
Net Worth: US$4.9 billion
Ethnic Group: Spanish
Controlling Entity: International Container Terminal Services, Inc.
Subsidiaries: ICTSI (Philippines no.1 port operator)
Group Consolidated Revenues: US$0.73 billion
Share on National Economy: 0.26%

4. Andrew Tan
Net Worth: US$3.95 billion
Ethnic Group: Chinese
Controlling Entity: Alliance Global Group Inc.
Subsidiaries: Megaworld Corp. (Philippines no.1 condo developer), Emperador Distillers (World's no.1 brandy producer), Golden Arches Corp. (Philippines McDonald's franchise)
Group Consolidated Revenues: US$2.82 billion
Share on National Economy: 0.99%

5. David Consunji
Net Worth: US$2.8 billion
Ethnic Group: Chinese-Spanish-Tagalog
Controlling Entity: DMCI Holdings
Subsidiaries: DMCI (Philippines leading construction company)
Group Consolidated Revenues: US$1.20 billion
Share on National Economy: 0.42%
http://imageshack.us/a/img812/7/lif1newz.jpg
6. George Ty
Net Worth: US$2.6 billion
Ethnic Group: Chinese
Controlling Entity: Metropolitan Bank and Trust Company
Subsidiaries: Metrobank (Philippines no.2 bank)
Group Consolidated Revenues: US$1.93 billion
Share on National Economy: 0.68%

7. Lucio Co (Picture: center)
Net Worth: US$2.0 billion
Ethnic Group: Chinese
Controlling Entity: Puregold Price Club
Subsidiaries: Puregold (Philippines no.2 retailer)
Group Consolidated Revenues: US$1.33 billion
Share on National Economy: 0.47%

8. Robert Coyiuto
Net Worth: US$1.6 billion
Ethnic Group: Chinese
Controlling Entity: National Grid Corp.
Subsidiaries: National Grid (Philippines no.1 electricity supplier)
Group Consolidated Revenues: US$1.11 billion
Share on National Economy: 0.39%

9. Tony Tan
Net Worth: US$1.4 billion
Ethnic Group: Chinese
Controlling Entity: Jollibee Foods
Subsidiaries: Jollibee Restaurants (Philippines no.1 fast food restaurant)
Group Consolidated Revenues: US$1.65 billion
Share on National Economy: 0.58%

10. Andrew Gotianun
Net Worth: US$1.2 billion
Ethnic Group: Chinese
Controlling Entity: Filnivest Development Corp.
Subsidiaries: Filinvest Land (Philippines leading mid-market residence developer)
Group Consolidated Revenues: US$0.35 billion
Share on National Economy: 0.12%

11. Roberto Ongpin
Net Worth: US$1.2 billion
Ethnic Group: Chinese-Spanish
Controlling Entity: Top Frontier, Q-tech
Subsidiaries: Controlling interest in San Miguel Corp (Philippines no.1 conglomerate)
Group Consolidated Revenues: US$16.53 billion
Share on National Economy: 5.82%
Source:
http://www.voanews.com/content/philippi … 03574.html
http://www.theintelligencer.net/page/co … =1&nav=538
http://www.philstar.com/business/2013/0 … ows-income
http://www.timesdispatch.com/business/n … 2c5c8.html
http://news.xinhuanet.com/english/indep … 565773.htm