- Philippines economic growth on par with China for the second consecutive quarters
- Rapid industrialization about to take off in the Philippines
While India, Malaysia, Thailand and Indonesia witnessed a slowdown in recent months, the Philippines economy grew strongly in the second quarter, underscoring how the archipelago nation is able to ride out the current turmoil in emerging markets due to healthier fundamentals. Gross domestic product, the broadest measure of economic activity, grew 7.5% on year in the quarter. This compared with Malaysia 4.3%, Indonesia 5.8% or Thailand 2.8%, putting the Philippines on par with China's Q2 growth.

Philippines - the new economic shining star of Asia
The data helps explain why investors have not punished Philippines assets to the same degree as other emerging Asian nations in the latest markets sell-off. The Philippines, unlike its Asian peers, is viewed as having managed its economy more conservatively during the period of easy global money that followed the 2008 global recession.
Countries like Indonesia, Thailand and Malaysia, which used easy credit to fund investments and consumption, are now running large current account deficits. Exports of commodities from these nations to China have declined, while credit growth has remained high. Those deficits have left these nations dependent on hot-money capital flows to fill the gap, but with U.S. interest rates on the rise, those flows are harder to attract.
The Philippines, by contrast, looks a lot more steady. Its economy isn't as dependent as Indonesia and Malaysia on China to buy its exports, and the country hasn't binged on short-term foreign debt to the same extent as other countries. That has left it with a current account surplus and the room to continue with loose monetary policy at a time when other nations in the region need to raise rates to attract capital even as their economies are slowing.

Recent emerging market crisis proved China as an emerging economy while India, Malaysia, Thailand and Indonesia 'still doubtful'
Consumers in the Philippines continued to lead growth in the latest quarter, helping to counterbalance a weakness in exports. Strong government spending on infrastructure also helped underpin the numbers. Philippines benchmark PSE Composite Index was up around 3.7% on the data, helping erase some of its recent losses.
As a result, stocks in the Philippines have outperformed other countries. Its peso has dropped in recent days but by a lesser quantum than the Indian rupee, Indonesia rupiah or Malaysian ringgit. Yields (borrowing cost) on ten-year Philippines government notes have fallen, while other countries have to pay more to attract funds.
Michael Wan, an analyst with Credit Suisse, said "the Philippines now offers the best macroeconomic prospects" among large Southeast Asian economies. Finance Secretary Cesar Purisima said the government will strive to sustain the momentum in the months ahead by focusing on government infrastructure projects. That is not an option open to nations like India, for instance, which has a massive government deficit that is worrying investors.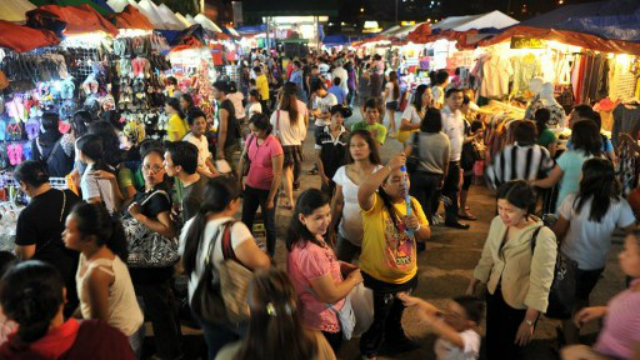 Consumer spending rises as Philippine middle class expands
Local demand, helped by recent interest rate cuts, also is keeping growth ticking over. "Solid domestic demand should help counter possible negative pressures from global developments," said Amando Tetangco, the country's central bank governor. "We remain the fastest growing economy among emerging economies in the ASEAN region," Balisacan told reporters. "The 7.5% growth, which is the same as China's, surpassed Indonesia's 5.8%, Vietnam's 5%, Malaysia's 4.3%, and Thailand's 2.8%."
"While other economies have decelerated due to the global slowdown, the Philippine economy has shown an ability to withstand external shocks," he added. Low inflation also has allowed the central bank to keep interest rates at record lows since last year. In the seven months to July, inflation averaged 2.9%, below the target 3.0%-5.0% range for this year.
"The composition of our growth shows signs of an economy that is in the process of rebalancing, moving from being largely consumption-driven to becoming investment-led and industrialized, with the ability to provide higher quality jobs for Filipinos. This internal dynamism indicates greater consumer and business confidence in the domestic economy, as we have continued to keep our macroeconomic fundamentals in check," Balisacan added.

Underdeveloped Philippines on verge of rapid industrialization?
Capital Economics, a macro-economic research company, believes the Philippines will be one of Asia's top performers over the next couple of years. "The economy is well-placed to withstand recent turmoil in financial markets," Capital Economics said in a research note. It raised its growth forecast for 2013 to 7.3% from 6.5%.
"The Philippines remains a bright spot in Asia," said Jeff Ng, an economist at Standard Chartered Plc in Singapore. "While expansions in other countries are fading, Philippine GDP growth remains very much robust and we see growth persisting at above-trend levels. Infrastructure investment is imperative in sustaining the growth trajectory in the next few years."
As the nation's middle class expands, Jollibee Foods Corp., the Philippines largest fast-food operator, plans to open 100 stores locally and 100 overseas this year, Chief Financial Officer Ysmael Baysa said. Others like San Miguel Corp., Ayala Corp. and JG Summit Holdings Inc. are investing in airports and railways.
http://imageshack.us/a/img560/4060/gen1new.jpg
Credit rating agencies praised Philippines while downgraded its neighbors
Credit rating agencies Fitch Ratings and Standard & Poor's awarded the nation its first investment-grade rankings this year, as the country increased state spending and cracked down on corruption. The Philippines may even be among the world's five fastest-growing economies this year and next, according to Bloomberg surveys.
The Philippines, after 50 years of American rule, was Asia's second biggest economy in the 1950s, only after Japan. That's right, the GDP was higher than even China and India at that time. By 1960, the Philippines was on its way to become the second developed country in Asia after Japan. Then came the Marcos regime who ruled the country from 1965 to 1986.
It was a period of great decline, with the Marcos borrowed so much money from international lenders that in 1986, the Philippines became one of the most indebted countries in Asia. A sizable amount of the loan money went to the Marcos family and friends in the form of behest loans. Through corruption, nepotism and embezzlement, the Philippines descended from an economic powerhouse into a poor, poverty-stricken country today.

The only major Asian economy whose growth rivaled China in the past 6 months
After decades of plunder, the economy collapsed in 1984 and the Philippines became the 'sick man of Asia'. The country's economy then stagnated, and it wasn't until 2003 before any recovery can be sighted.
Source:
http://online.wsj.com/article/SB1000142 … 05548.html
http://www.ibtimes.com/philippine-econo … er-1401463
http://www.ft.com/intl/cms/s/0/2f44064e … z2dVAz9UUV
http://www.bloomberg.com/news/2013-08-2 … nding.html
http://www.arabnews.com/news/462910