Myanmar's president Thein Sein on Sunday night declared a state of emergency after sectarian tensions between Buddhists and Muslims unleashed deadly violence. He warned that if the situation spun out of control, it could jeopardize the democratic reforms he has been instituting since taking office last year, and plunge the nation into anarchy.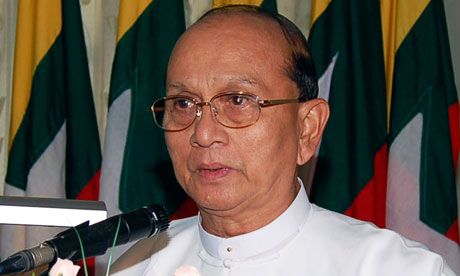 Myanmar President Thein Sein
The move comes after days of riots, arson and murders in a western state of Myanmar. A state of emergency effectively allows the military to take over administrative functions for the Rakhine State, a coastal region that borders Bangladesh. It is the first time Thein Sein has invoked the measure since becoming president last year.
"I would like to call upon the people, political parties, religious leaders and the media to join hands with the government with a sense of duty, to help restore peace and stability and to prevent further escalation of violence," said Thein Sein.
"If we put racial and religious issues at the forefront, if we put the never-ending hatred, desire for revenge and anarchic actions at the forefront, and if we continue to retaliate and terrorise and kill each other, there's a danger that (the troubles) could multiply and move beyond Rakhine," Thein Sein said in a hastily arranged televised address.
http://dawncompk.files.wordpress.com/2012/06/myanmar_emergency_afp_1_670.jpg?w=670&h=350
Myanmar Buddhists
"If this happens, the general public should be aware that the country's stability and peace, democratization process and development, which are only in transition right now, could be severely affected and much would be lost."
The violence poses another obstacle to the government of President Thein Sein as he tries to open up the country after years of isolation imposed by a military junta and steer it toward democracy.
In the evening of May 28, a group of three Muslims raped and murdered an ethnic Rakhine Buddhist woman, Ma Thida Htwe near the Kyaut Ne Maw village. The police later arrested three suspects and sent them to Yanbyal township jail. Outraged, a crowd of 300 Buddhists retaliated in June 3 by lynching 10 Muslims to death.
http://www.dailystar.com.lb/dailystar/Pictures/2012/06/05/75512_mainimg.jpg
Myanmar Muslims
In June 8, an angry Muslim mob numbered in thousands, came out from mosques after Friday prayer and burned down several houses in Bohmu Village, Maungdaw Township. They then proceed to burn down 14 villages. According to state media, at least 500 homes and other buildings have been torched during the mob violence. The president said the government would compensate those who had suffered losses and asked people to be magnanimous and understanding.
Shops in the state capital, Sittwe, were closed and the busy port city was unusually quiet Sunday, according to residents, though some neighborhoods experienced trouble. Some houses were set on fire by the Muslims today in Sittwe and four Rakhine villagers arrived at the hospital with knife wounds, said Nu Nu Tha, a Sittwe resident contacted by phone.
Almost all shops are closed and people live in fear that the Muslims might attack the Rakhine population. I am very scared and I have sent my children to Yangon by plane, Nu Nu Tha said.
https://fbcdn-sphotos-a.akamaihd.net/hphotos-ak-snc6/603023_235681556535596_992929854_n.jpg
Villages burnt
Myanmar is a deeply Buddhist state with Buddhism practiced by 89% of the population especially among the Bamar, Rakhine, Shan, Mon, and Chinese. Christianity and Islam both accounted for 4% while Hinduism 1%. There is no official state religion, the constitution provides for the freedom of religion, however it also grants broad exceptions that allow the regime to restrict these rights at will.
In contrast to the previous military regime, Mr. Thein Sein's government has been relatively open in releasing timely information about the recent trouble. Under the former ruling junta, such incidents usually went unreported or were referred to only in brief, cryptic fashion.
Army troops had been deployed to help police keep order, and security officials were reported to have fired shots to quell the violence, in addition to imposing a curfew. In Yangon, Buddhist monks and people from Rakhine state went to the Shwedagon Pagoda, Myanmar's most revered Buddhist shrine, to convey their prayers for the murdered girl and those killed in the clashes.
http://news.mmsy.info/wp-content/uploads/2012/06/DSC00298.jpg
Muslims and Buddhist leaders have urged calm in recent days, and Nobel laureate and opposition leader Aung San Suu Kyi issued a statement appealing for the rioters to stop and calling on the government to restore order and bring along national unity.
Resentment of ethnic Rohingya Muslim runs deep among Myanmar's predominantly Buddhist, ethnic Burman majority. The government and many Burmese refuse even to recognize them as "Rohingya", referring to them as "Bengalis". In this incident, Burmese labeled the perpetrators to as "Bengali terrorists". Bengali is the ethnic majority in Bangladesh.
Although the root of the problem is localized, there is fear the trouble could spread elsewhere because the split also runs along religious lines. Southeast Asia, as a whole, has its own share of sectarian tensions. In neighboring Thailand where 94% follow the Buddhist faith, there is likewise, clashes between the Buddhist and Muslims, who made up 5% of the population, especially in Southern Thailand.
http://3.bp.blogspot.com/-OuU6Doxs7kk/T9LmqAzZV9I/AAAAAAAAE5M/sRCwBGYzfrY/s1600/Arakan+Burnt.jpg
In the Philippines where Christianity accounts for 81% of the population, there is full-blown separatist fighting in Mindanao, where most of the 5% Muslim populace is concentrated in. Philippines hosted some of the most radical terrorist groups in Southeast Asia such as the Abu Sayaf and MILF.
In Cambodia, religious harmony is well-maintained. The Cambodian Muslims, who make up less than 2% of the population, are able to practice their religion normally and out in the open. People of all religions are given the same freedom as that of Buddhism, the official religion practiced by the 96% of Cambodians.
In Communist Laos and Vietnam, religions are generally not well-tolerated, and even though Buddhism is widely practiced, the majority of the population identified themselves as non-religious or animist. Persecution of religions exists in both countries.
http://www.nationmultimedia.com/new/2012/06/10/national/images/30183846-01.jpg
In Singapore, there is no majority faith, and the most followed religion is Buddhism, practiced by 33% of the population. Singapore maintains strict laws and policies that do not tolerate speech or actions that it deems could adversely affect racial or religious harmony, and encourages followers to merge their places of worship with other religions. In schools, mixed-race classes, interaction between students of different races and the celebration of religious festivals also help inculcate religious tolerance and understanding from a young age.
Indonesia is the world's most populous Muslim-majority country, with 87% of its citizens identifying themselves as Muslim. Even though the country adopts secularism with no official religion, religious conflict is prevalent, with violent Muslim-Christian conflict occasionally break out in Maluku, Sulawesi and Papua. Indonesia is also the operational headquarter for Southeast Asia's most militant terrorist group, the Jemaah Islamiah or JI. There are also known cases of Buddhist-Muslim tension, such as the dismantling of a statute of Buddha last year to appease Muslim groups. The exception is Hinduism, who made 93% of the faith in the island of Bali and 2% of Indonesian population. Indonesian nationalists have long regarded the 'religion of Majapahit' a matter of nationalist pride.
In Brunei, Islam is predominant religion, constituting 67% of the population. The country declared Islam one of the main philosophical pillar of the state, and other religions, though recognized, are highly restricted. Religious education other than Islam is controlled and any non-Islamic religious materials being distributed are subject to confiscation. Inter-religious harmony however, is maintained through an extensive social welfare system. The country has set a goal to be a 'pure' Islamic state by 2035. This come with a price though, the Bruneian economy is now the poorest-performing among its Southeast Asian peers.
The dominant religion in Malaysia is Islam, whose followers make up 61% of the population. Malaysia shares a similar religious demographics with Indonesia, where Christianity formed the majority in its entire eastern provinces. Debate exists on whether the country is a secular or Islamic state, and politics often entwined with religion. Relations between different religious groups are generally quite tolerant, though mutual suspicion and tension is recently on the rise.
Source:
http://www.nytimes.com/2012/06/11/world … anmar.html
http://www.theglobeandmail.com/news/wor … le4245695/
http://www.thejakartapost.com/news/2012 … lence.html
http://uk.reuters.com/article/2012/06/1 … AP20120610
http://timesofindia.indiatimes.com/worl … 001645.cms
http://www.dw.de/dw/article/0,16013094,00.html