Indonesia, the world's largest Muslim economy, is booming and multinationals are rushing in. Foreign direct investment (FDI) in the country hit a record in the first three months of the year, demonstrating a growing appeal to companies seeking to tap its burgeoning middle class. The government said on Monday that foreign investment rose 27.2% in the January-March period from a year earlier to 65.5 trillion rupiah ($6.7 billion).

Investment money gushing into Indonesia as economy booms
Japan was the largest source of FDI into Indonesia in the first quarter, with Japanese auto companies pumping in $1.2 billion. Next were South Korea, with $800 million in investment, and Singapore, with $600 million. The biggest economy in Southeast Asia has grown by more than 6% in four of the past five years, one of the world's strongest growth streaks, thanks to rising consumer demand in the country. Indonesia is the world's fourth most populous nation, with an estimated 251 million people.
Unlike many Asian countries, Indonesia's economy is powered mostly by domestic demand rather than exports. That has softened the impact of the global slowdown and meant more growth for the archipelago as an increasing number of its citizens enter the middle class. McKinsey Global Institute said in last September that rising incomes will add an additional 90 million people to the country's consuming class by 2030, more than any other country except China and India.
And while China and India have far larger economies, investment has slowed or declined. China said last week that foreign direct investment had risen by a mere 1.44% in the first quarter, to $29.9 billion. In India, the figure fell 6.3% to $3.95 billion in the first two months of the year, the most recent data available, according to Indias Department of Industrial Policy and Promotion. Indonesia is catching up fast, so much so economists are suggesting to replace the 'I' of BRIC (Brazil, Russia, India and China) with Indonesia.
http://advisoranalyst.com/glablog/wp-content/uploads/HLIC/d430b3633e1d536ccdf2798d643fc9a1.gif
Indonesian manufacturing activities surge forward at the expense of its neighbors
The phrase was first coined back in 2001 by Jim O'Neill from Goldman Sachs to encompass four fast growing emerging-market countries. But now India is seen as the weakest link, the world's second most populous nation once saw its economy growing at a rate of 9%, but is currently suffering from "policy paralysis", caused by a combination of stalling economic reforms and political haggling. The 2012 Indian GDP growth (5.3%) dropped below that of Indonesia (6.2%) and trailed China (7.8%), an irony considering Indian economists had been in the past several years, predicting an overtaking of China.
India's economy ($1.947 trillion) is still more than 2 times that of Indonesia ($928.3 billion), but it is showing recent signs of stumbling after many years of strong growth, while Indonesia's strengths have made it the darling of international investors. China remains far ahead with an economy worth $8.2 trillion. The three made up 69% of the total population in Asia.
When Marcos A. Purty arrived in 2011 as the chief of General Motors' Indonesian operations, he found a mothballed auto plant and decided to spend $150 million to reconstruct and expand the factory. Today, that plant is humming. About 700 people work in the plant, 16 miles east of Jakarta, compared with a mere 30 just 18 months ago. And next month, the American automaker will start delivering its first Indonesian-built vehicle in years, the Chevrolet Spin.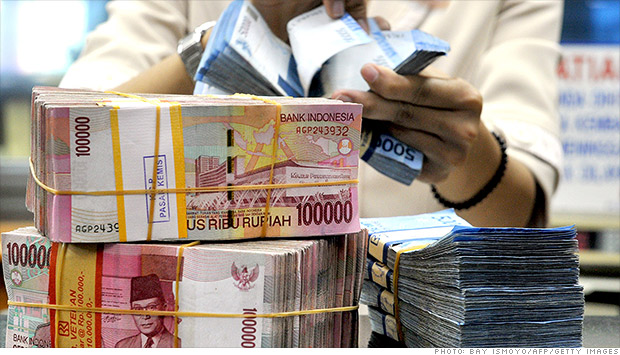 The Indonesian economy outperforms even India, a member of the BRIC
Auto sales are surging in Indonesia, up 17.8% in the first quarter from a year earlier, rewarding GM for the investment it recently made in the country. Other big multinational companies are also racing to invest in factories and other operations to cash in the rising consumer demand, even though concerns about an unpredictable regulatory environment, a high level of corruption, inadequate infrastructure and rising labor costs exist. Cosmetics giant L'Oreal opened its biggest factory in the world in West Java Province last year.
Indonesia has been on a roll since it emerged virtually untouched from the 2008 financial crisis. In 2009, it joined the G20, Group of 20 large economies. It won its first investment-grade credit ratings in more than a decade in late 2011 and early 2012, and its gross domestic product has expanded at a steady rate of more than 6% for the last three years. While overseas capital has long flowed into the resource-rich country's mining, oil and natural gas sectors, many of today's new foreign investors are focusing on the Indonesian consumer.
A decade ago, the last of Subway's 10 franchised restaurants in Indonesia were closed, but now the group is returning, said Stefan Grbovac, an area development manager for Subway in Singapore. He declined to provide details on local franchise partners or future store openings but he said the decision to come back to the country had been easy. "Just look at this country - all of our competitors are here," Mr. Grbovac said, including American franchises like Burger King, KFC and McDonalds. "Were definitely coming back."

Indonesia's expanding middle class is spurring rapid economic growth
Still, the challenges for foreign investors trying to do business in Indonesia are formidable. It can take 80 days to get a business license. In a global survey of the ease of doing business compiled by the World Bank, Indonesia ranked 128 out of 185 economies this year, a drop of 13 places from 2010. Transparency International ranked Indonesia 118 out of 176 countries in its most recent corruption perception index.
"Indonesia is punching below its weight as a big country due to certain factors," said Andrew White, the managing director at the American Chamber of Commerce in Indonesia. "Indonesia is growing by 6%, but it should be growing by 10%." Corruption and regulatory restrictions may have shaved off 4% of Indonesian growth. " But even though investors have to deal with the problems of bureaucracy and infrastructure, the returns are higher than if you invest in Europe and the U.S. now."
Indonesian President Susilo Bambang Yudhoyono says the country is an example of how a Muslim state could thrive with democracy and secularism. "We have become a solid democracy with three periodic elections in 1999, 2004 and 2009, while at the same time attaining high economic growth around 6%," Yudhoyono said. "Thus we have demonstrated that democracy and economic growth can be mutually reinforcing."
http://2.bp.blogspot.com/-vcRS_LpNDbg/T0jYOmApRnI/AAAAAAAAJcg/-v1eT7unsw4/s1600/jakarta-stock-exchange.jpg
Indonesian stock markets have surpassed Malaysia to be the 2nd largest in the region after Singapore
The President also tackled the global perception that Islam and democracy could not work together, saying that he believed Indonesia itself is a model to highlight how democracy, modernization and Islam worked hand in hand. "Muslims in Indonesia are very comfortable with democracy and with modernity. We are different from the Arab world," Yudhoyono said. Indonesia is a secular state who recognizes Islam, Protestantism, Catholicism, Hinduism, Buddhism and Confucianism as its 6 official religions. Muslims in Indonesia are free to convert to other religions.
Yudhoyono admitted that there are circumstances of religious violence in Indonesia, "Indonesia is one of the most ethnically diverse nations in the world, and some predicted that the next 'Balkan' would be in Indonesia," he said. "But I am pleased that the strengthening of our democracy has brought about numerous positive impacts."
The country has over 300 ethnic groups and there are no majority race in Indonesia. The largest of them is the Javanese who make up 42% of the total population and the Sundanese who account for 16%. The rest, such as the Malays, Madurese, Batak, Bugis, Chinese, Minangkabau, Balinese, Acehnese, are all below 4%. In term of religious faiths, around 90% of Indonesians practice Islam, with most of Eastern Indonesia Christian, the island of Bali Hindu, and the areas near Singapore Buddhist.

Distribution of religions in Indonesia
"The persistently strong FDI data is a testament that Indonesia's longer-term growth potential continues to be attractive for foreign investors," OCBC economist Gundy Cahyadi said. "Going forward, we think that FDI flows will remain very much supportive, and indeed, we expect the FDI amount to potentially reach $30 billion-$35 billion per annum in the next several years if the government continues to engage in infrastructure development, which has been an old problem for the country."
"New investments are shifting from the resources and plantations sectors to manufacturing," he said, suggesting that Indonesia is becoming a manufacturing nation. Budiarto Halim, chief executive of PT Erajaya Swasembada, one of the country's largest mobile-phone distributors by sales size, said "business prospects in Indonesia are "very positive."
As the economy grows, Indonesia now has more billionaires than Japan. The ethnic Chinese, amounted to 1.2% of Indonesian population, are estimated to control 70% of the economy. Of Indonesia's 25 billionaires listed in Forbes 2013, 20 of them are of Chinese descent, and among the country's top 10 biggest conglomerates; Astra, Salim, Sinar Mas, Wilmar Indonesia, Djarum, Philip Morris Indonesia, Bakrie, Lippo, Gudang Garang and Rajah Garuda Emas, 7 are owned by Chinese tycoons.

Anthony Salim (Liem Fung Sen), who headed the Salim Group, Indonesia's biggest conglomerate with over 500 businesses
Indonesia is moving away from its dark chapters of violence against its Chinese minority, of whom around 1,500-5,000 were killed in the 1998 Jakarta riot, and another 10,000-100,000 fled to Singapore and Hong Kong. Chinese-owned businesses were ransacked, looted, and set on fire at that time when the Indonesian economy and currency collapsed under the Asian financial crisis. The riot saw 5,723 buildings and 1,948 vehicles destroyed, with Indonesian Chinese suffering most of the material losses.
After the fall of Suharto, Indonesia at first continued to adopt a hardline stance towards its Chinese minority. In a 19 July 1998 interview with The Washington Post, the new Indonesian President Habibie stated that the country doesn't need ethnic Chinese businessmen. The resulting effect was that Chinese investors in Asia slammed the Rupiah, causing its value to plunge another 5% in addition to the 83% drop it already experienced during the crisis. This unexpected reaction prompted immediate changes in attitude, and Habibie soon reconciled with the Indonesian Chinese community.
Successive Indonesian presidents attempted to patch up ethnic strife; Habibie later passed legislation to eliminate the usage of the terms 'pribumi' and 'non-pribumi', Abdurrahman Wahid reversed the legislation forbidding the practice of Chinese culture and use of Mandarin in public. Megawati Sukarnoputri declared Chinese New Year a national holiday. The Indonesian legislature passed a new citizenship law in 2006 allowing Chinese Indonesians to be eligible to run for presidency. From 2006 onwards, Chinese capital was again returning to Indonesia.

Indonesia to become the first modern Muslim industrial power?
Source:
http://www.bbc.co.uk/news/business-21921593
http://www.nytimes.com/2013/04/24/busin … wanted=all
http://www.thejakartaglobe.com/politics … ays/587382