The value of Iranian rial has dropped below that of Vietnamese Dong and Sao Tome Dobra, making it the second least value currency in the world, as traders anticipated a devaluation of the official exchange rate. Iran's Mehr News Agency reported that the currency fell to about 22,300 rials per U.S. dollar on Tuesday, an all-time low.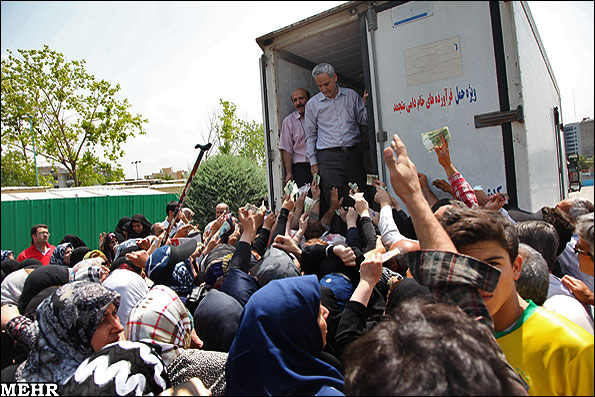 Iranians rushed to buy chicken, a staple food, as prices skyrocket due an increasingly worthless currency
On Monday, the rial had tumbled to around 21,510 from its Sunday level of 20,440 after the central bank said it would change the currency's official exchange rate, prompting fears of another devaluation. The rial has been under pressure this year because of international sanctions against Iran's economy imposed over its disputed nuclear programme.
As international sanctions take effect on July 1, Iran's economy has been hit hard with the country now largely been cut off from the international banking system. The exchange rate in December 2011 was 10,700 rials to the dollar. Tehran's major currency trading district has stopped trading the dollars on Monday and removed signs from windows advertising their rates due to big fluctuation.
The slump followed U.S. President Barack Obama's Tuesday announcement of additional sanctions against Iran's energy and petrochemical sectors to "deter Iran from establishing payment mechanisms to circumvent existing sanctions." The new bill imposes sanctions on anyone or any company who invests in Irans petroleum or natural gas sector, who provides refined petroleum products to Iran, who joins in energy ventures with Iran or who transports Iranian crude oil, closing several existing loopholes.
http://nimg.sulekha.com/others/original700/iraq-2009-5-24-15-22-32.jpg
Money changer in Tehran, the U.S. Dollar becomes a favorite currency
In 1979, 1 U.S. Dollar fetched 71 rials, but following the Islamic revolution that year which transformed the country into a theocracy, the value of rial has declined precipitously because of capital flight from Iran.
With plunging currency, Irans inflation rate has now hit 22.9%, 10 times higher than the average inflation rate in the U.S. Economist reports show that sanctions against Iran are costing it $133 million a day in lost sales, depriving President Mahmoud Ahmadinejads country of about $48 billion in annual revenue.
One U.S. dollar is currently exchanged for 20,833 Vietnamese Dong, while Sao Tome Dobra is worth 20,225 per dollar. Only the Somalia Shilling has a lower rate at 23,000 for a dollar. Following the breakdown in central authority amid the Somalian civil war in early 1990s, the Central Bank of Somalia was shut down and acceptance is limited. The U.S. dollar is often used in Somalia for larger transactions.

Somalia Shilling, a country in anarchy since 1991, is the lowest value currency
Zimbabwe, which topped the chart in 2008 with a jaw-dropping Z$759 billion per dollar, has indefinitely suspended its currency and adopted the Euro, United States dollar, Pound sterling, South African rand and Botswana pula as its legal tender currencies.
Source:
http://in.reuters.com/article/2012/08/0 … LM20120807
http://www.businessweek.com/news/2012-0 … uoys-obama
http://abcnews.go.com/International/wir … CLrnqAdPkY
http://www.google.com/hostednews/afp/ar … ec1590.101
http://profit.ndtv.com/News/Article/ira … lar-308912
http://www.payvand.com/news/12/aug/1045.html
http://www.globaltimes.cn/content/725569.shtml