The countries surrounding Israel are now in total chaos; Egypt rocked by military coup, Syria remains engulfed in a devastating civil war, Jordan faced a deepening economic problem, while Lebanon suffered increasing sectarian violence as rival Sunni and Shia factions fought it out on streets. Amidst the challenges, Israel continues to be an oasis of calm among the seas of instabilities, with a stable political climate and a vibrant economy. This is evidenced by that Intel Corp., the world's largest chipmaker, is now in talks to inject a huge $10 billion investment into Israel.
http://l1.yimg.com/bt/api/res/1.2/jvHXOThkmpyfhRdsX6E00A--/YXBwaWQ9eW5ld3M7Zmk9aW5zZXQ7aD0zNDI7cT04NTt3PTUxMg--/http://globalfinance.zenfs.com/images/FR_AHTTP_REUTERS_OLFRTECH_WRAPPER_H_LIVE/2013-07-02T093219Z_1_APAE9610QHY00_RTROPTP_3_OFRIN-INTEL-ISRAEL-20130702_original.jpg
Semiconductor giant Intel seeks to invest $10 billion into Israel
"Intel is talking with us about an investment of $10 billion," Nahum Itzkovich, the new director of the Economy Ministry's Investment Centre, said in his first interview since assuming office. "We are engaged in intensive negotiations with Intel." Earlier this year, newspaper Yedioth Ahronoth reported that Intel had doubled its exports out of its Israeli fabs to $4.6 billion in 2012, and that Intel Israel general manager Maxine Fassberg wanted to see the company bringing its 10-nanometer technology to the Middle East rather than to its fabs in Ireland and the United States.
Intel will build chips over the next two to three years with features measuring 14-nanometer in Ireland and the United States but the company is already thinking about where it will produce the 10 nano-meter chips. Intel Israel executives said they would like to see the production in Israel, which would make the country hosting one of Intel's most advanced facilities.
Over the past ten years, Intel has already pumped $10.5 billion into its chip making operations in Israel, it is the largest foreign employer in Israel, and accounts for about 10 percent of the country's industrial exports. "We are talking about a manufacturing facility that has incredible impact on the Israeli economy," Itzkovich elaborated. "That said, it is incumbent upon us to examine the worthwhileness and to explain to the public what the benefits are and what the considerations are if we approve the investment."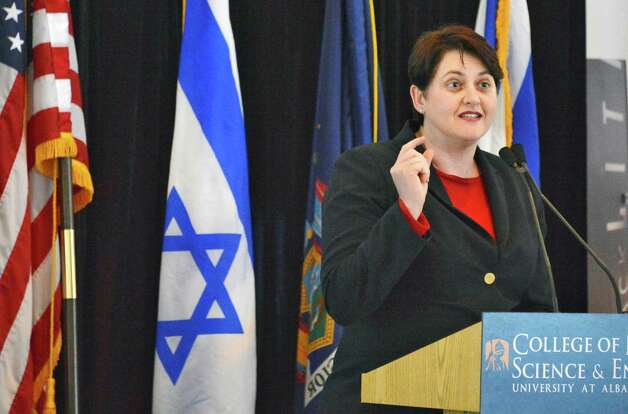 Processors developed in Israel account for 40% of Intel's worldwide sales
The $10 billion investment is ironically more than what Israel's Arab neighbors are trying to borrow from the International Monetary Fund (IMF), who has approved a $1.8 billion loan to Tunisia and another $2 billion for Jordan. With its cash reserves rapidly diminished, Egypt is desperately seeking to secure a $4.8 billion loan package from the IMF.
Israel's Silicon Wadi has in recent years, ranked by The Economist magazine as the world's second largest tech innovation center; inventing, designing and innovating technologies to compete with their counterpart in the Silicon Valley, California. With a concentration of technology start-ups just behind that of Silicon Valley, and the world's largest per capita pool of scientists, engineers and technicians, Israel is becoming the new standard for high-tech with a unique business model.
Almost all technological giants the likes of Intel, IBM, Google, Hewlett-Packard, Philips, Cisco Systems, Oracle Corporation, SAP, BMC Software, Microsoft, Motorola and CA now have their own network of R&D plants in Israel, spawning products and systems that are to be distributed worldwide.

Israel Silicon Wadi - the world's second most important tech innovation center
Israeli technological achievements is surprising for a country of just 8 million. Few people might know it, but Israel is the country that helped gave the world instant messaging, with Israeli company Mirabilis invented the ICQ, which was then bought by America Online to become AOL Instant Messenger. The popularity of AOL led to it being copied by Microsoft and Yahoo to become the popularly-used MSN Messenger and Yahoo Messenger today.
On the other hand, Israeli company Comverse brought to the world the telephony voicemail in the 1980s, which was quickly adopted by telecom companies and now integrated as a basic feature for smartphones. Another Israeli company, VocalTec Communications, created the VOIP technologies, the technology that evolved and made possible for us to have Skype today. "Israel is the country with the most engineers per capita in its population, and it ranks second behind the United States in the number of companies listed on Nasdaq," said David Kadouch, product manager at Google, who opened its R&D operation in Israel in 2007 and currently has 200 employees.
"It's really a second Silicon Valley. Besides the multinationals, all the major American investment funds are present," he said. "The scientific community is very active, there is plenty of manpower and especially an entrepreneurial culture. There is a huge ecosystem around high tech, and what is fundamental is that here we think global. Not to mention the country is also very committed to the advancement of its science and technologies. Out of 9 universities in Israel, 7 are ranked in the world's top 500."
http://www.theinquirer.net/IMG/062/163062/rsa-intel-booth-540x540.jpg?1297948262
Intel has 87% global market share on PC microprocessor and 90% on server microprocessor
Intel is a global semiconductor giant, with a dominating 90% market share in server microprocessor and 86.6% in PC microprocessor. The company is apparently still grateful to Israel for its strong market leads. Back in 1999, an emerging rival began to erode Intel's market share. New line of innovation from Advanced Micro Devices (AMD) allowed it an unimpeded market share gain throughout 2004 and 2005 and Intel was unable to respond to AMD's technologies until the latter half of 2006.
By the end of 2006, shares of Intel had fallen 19 percent even though the chip market was growing rapidly as a result of booming PC businesses. Analysts were starting to predict Intel's eventual fall. A common question shareholders and financial experts had for Intel at that time was: "Can they ever regain the prominence and bellwether status that they achieved during the 1990s?"
But the Israel team saved Intel, said Doug Freedman, an analyst for American Technology Research. "They saved the company," Freedman said. "Without those new Israeli innovation, Intel would be in a lot more trouble." In 2007, Intel developed a microprocessor that successfully helped it recover from a battering by AMD. The chip wasn't invented in Silicon Valley, instead, by a group of Israeli scientists 7,400 miles away in Haifa, Israel. This was the revolutionary Core 2 Duo and it succeeded in stemming AMD's advances.

Intel's investment is expected to bring Israel semiconductor industries to new high
Spending its time through 2008 improving its technical architecture and narrowing AMD competitive window, Intel basically eliminated all AMD's advantages against it by 2010. By August 2012, shares of AMD have plunged 63% from its 2010 level. At the end of 2012, Intel has wiped out AMD's gains since 2004 and tightened its grip on the world's microprocessor markets, with market research firm IHS iSuppli seeing the danger to a formation of Intel monopoly.
Source:
http://articles.economictimes.indiatime … ew-factory
http://www.theregister.co.uk/2013/07/03 … fab_plans/
http://www.bizjournals.com/sanjose/news … sh-10.html
http://wallstcheatsheet.com/stocks/inte … rael.html/
http://news.techeye.net/business/intel- … investment
http://www.algemeiner.com/2013/07/03/in … in-israel/
http://in.reuters.com/article/2013/07/0 … 6820130702
http://au.news.yahoo.com/technology/new … el-report/
http://www.businesstimes.com.sg/breakin … t-20130702