Part one:
How to Extract Audio from DVD and VCD
Exact Audio Copy is a so called audio grabber for audio CDs using standard CD and DVD-ROM drives. The main differences between EAC and most other audio grabbers are:
It is free (for non-commercial purposes)
It works with a technology, which reads audio CDs almost perfectly. If there are any errors that cant be corrected, it will tell you on which time position the (possible) distortion occurred, so you could easily control it with e.g. the media player
With other audio grabbers you usually need to listen to every grabbed wave because they only do jitter correction. Scratched CDs read on CD-ROM drives often produce distortions. But listening to every extracted audio track is a waste of time. Exact Audio Copy conquer these problems by making use of several technologies like multi-reading with verify and Accurate Rip.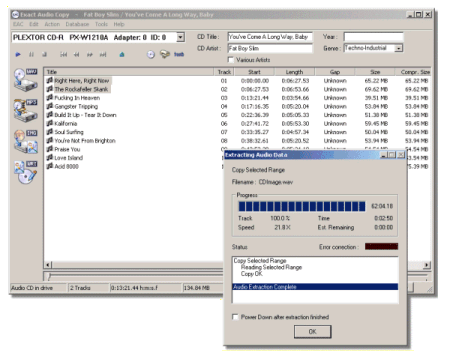 Tips:
Download an external encoder for the audio format you wish to use. Rarewares is an excellent web site to find external encoders for audio formats.
Part two:
How to Extract Video from DVD and VCD
Before extracting video from DVD or VCD, you should understand the following knowledge
What is DVD? : refers to http://www.videohelp.com/dvd
If you've ever explored the contents of a DVD movie on your PC's DVD drive, you will have seen something like this; two folders, VIDEO_TS and AUDIO_TS.
http://www.pcstats.com/articleimages/200408/makedvd_1.gif
The VIDEO_TS folder contains all the compressed video and sound files, as well as the information that allows the player to access them in proper order. The AUDIO_TS folder is used for DVD-audio disks and is left empty for DVD-video, though it is always included for compatibility reasons.
The contents of a typical VIDEO_TS folder will resemble this:
http://www.pcstats.com/articleimages/200408/makedvd_2.gif
The .VOB files contain the actual video and audio data, not to mention subtitles, extra viewing angles, pretty much everything you see and hear. They are up to a gigabyte in size and are numbered sequentially.
The .IFO files contain information about the .VOB files. Your DVD player will use these to locate and sequence the video and audio, figure out where each chapter begins and ends, etc. The .BUP files are backups of the .IFO files.
The VIDEO_TS.IFO and .VOB files are the first items that the DVD player will access, and generally contain the menu, at least in the case of home-authored DVDs.
Therefore, if you want extract videos, you can copy vob file from CD or DVD.
Free ways: Copy vob file to your hard disk and play them with WMP10, SMPlayer 0.5.51, if couldnt, dowmload mpeg2 codecs
However, if this DVD or VCD has been encrypted, you must use third tools to decrypt them like as DVDDECRYPTER, DVDShrink, supper, etc.
For beginners, I suggest use this tool. Because it is easy to use and fast, only need three steps, more information, please refer to: http://www.pavtube.com/dvd_ripper

Part three:
How to Backup DVD or VCD freely:
For beginners, I recommend use third tools to copy that in case losing something!!
Some tools may be used: Pavtube DVD Copy is an easy to use and powerful DVD copy tool. The program makes it possible to copy DVD to DVD with excellent DVD copying quality.
DVD Clone, The epoch is coming to make Real DVD backups! Now what you will get are real DVD movies. The DVD-R/RW copied by DVD-Clone is the same with the original DVD movie, in true DVD format and adopts MPEG2 format maybe now there are similar…
DVD X Copy Make Perfect Quality Backup Copies of All Your DVD Movies DVD X Copy allows you to make perfect quality backup copies of all your DVD movies. With DVD X Copy - nothing is left off your new disc. Just insert the DVD movie you wish to copy and with the three tools I used, you can download from http://www.sofotex.com/download/Multimedia/DVD_Burner/.