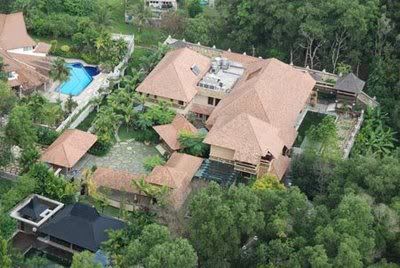 Via Malaysia Insider
DAPs Ng See Lim today revealed documents which allegedly confirms allegations which first surfaced over the Internet months ago that Dr Khir owns the mansion on Jalan Suasa 7/1L in Shah Alam.
The Sekinchan assemblyman said the resort-like home of the former mentri besar had been built on two plots of land measuring over 50,000 sq ft or 1.17acres.
In comparison, Istana Zakaria which brought about the political downfall of the infamous Port Klang assemblyman had 16 bedrooms, 21 bathrooms and built on 43,000 sq feet of land in Kampung Idaman, Klang.
Ng, who produced documents from the State Land Department, said Dr Khir had purchased one lot measuring of 31,794 sq feet for RM2.9 million while another lot measuring 20,427 sq feet was purchased for RM900,000.
He further alleges that the mansion, which sits behind high walls, was built at a further cost of RM20 million.
Speaking to reporters later, Dr Khir said he had bought the home for only RM3.5 million with a loan from HSBC.
I have nothing to hide. Everything is above board, he said.
Earlier, Ng had taken reporters to visit the house and alleged that Dr Khir could not have been able to afford the house on his income as a mentri besar.
The house was built according to Balinese architecture with furniture from Bail, and it also has a pool.
I would like Dr Mohd Khir, who was a dentist before becoming mentri besar for eight years, to explain how he accumulated so much wealth that he could afford to build the house that cost at least RM24 million.
Based on the public income declaration of Tan Sri Khalid Ibrahim, Ng worked out that Dr Khirs income to be no more than RM48,000 a month while he was mentri besar.
This would come to RM576,000 a year or RM4.6 million while he was mentri besar between August 2000 and March 2008. As mentri besar, Dr Khir would have been barred from engaging in business.
Ng said the Malaysian Anti-Corruption Commission (MACC) must act and investigate how Dr Khir could afford the house.
He said the MACC could obtain all the necessary documents from the land office and did not have to interview him or wait for a report to be lodged.
According to documents given to the press, Dr Khir and his wife Datin Seri Zahrah Kechik had obtained the land from Ditamas Sdn Bhd in 2007 while construction of the house was completed some time this year.