Property tycoon Wang Jianlin is now the new richest person in China after seeing his fortune double over the last year to US$22 billion, overtaking Zong Qinghou, whose wealth grew 50% during similar period, based on the latest estimation carried out by China's Hurun Wealth Report 2013. Wang, 59, is the head of Dalian Wanda Group, one of the largest property developers in China, and also the world's largest cinema operator after purchasing U.S.-based AMC Entertainment Holdings earlier this year.

China's new richest man saw his wealth more than double to $22 billion
The Hurun Wealth Report also found that the number of dollar billionaires in China has more than quadrupled in a year, from 64 in 2012 to 315 people in 2013. The report claims that ten years ago there were no dollar billionaires in China. Rupert Hoogewerf, chairman and chief researcher of The Hurun Report, said: "Strong performances in real estate and IT have driven Chinas richest to new records."
In an interview with American newspaper LA Times, Wang says he planned to invest US$10 billion into U.S. companies within 10 years, which could include buying department stores, hotel management companies and at least one more cinema chain. Worldwide, he plans to invest as much as US$30 billion, a figure more than his current net worth, leading to speculation that the report underestimated his fortune.

Wang becomes the world's largest cinema operator after acquiring U.S.-based AMC
Born to a military family in China's southwestern Sichuan province, Wang served the People's Liberation Army for 16 yeas from 1970 to 1986. He joined the Communist Party in 1976 and has been a member of the Chinese People's Political Consultative Conference, a top parliamentary advisory body since 2008. His father fought for Mao Zedong's Red Army during the Long March campaign.
On the other hand, shares of hoteliers Marriott and Starwood (Sheraton) climbed in New York after Wang said he has hired two investment banks to buy hotel management companies. Wang's Dalian Wanda Group wants to build hotels in as many as 10 major cities around the world including projects planned for London and New York. He now owns 71 shopping centers, 38 five-star hotels, 6,000 cinema screens, 57 department stores, 63 karaoke outlets, and 9 million square meters of lands.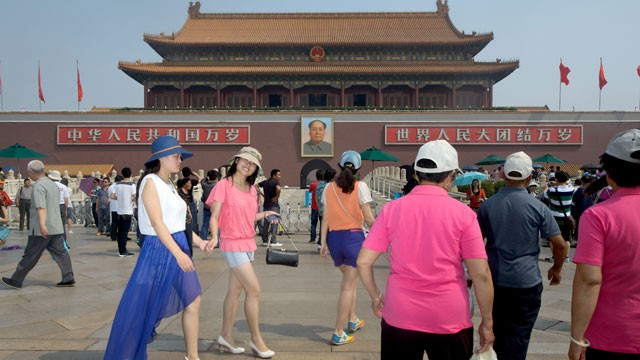 Feverishly communist Mao Zedong looking at China's capitalistic society
The new ranking made Wang the world's third richest person of Chinese descent. Hong Kong's Li Ka Shing remains wealthiest Chinese at US$32 billion, followed by Lee Shau Kee with US$23 billion. All three are major property players in their respective markets. In Taiwan, food and confectionary tycoon Tsai Eng-meng was the richest man, carrying a fortune of US$9.6 billion. Macau's Stanley Ho meanwhile, has distributed his business empires over 4 wives and 17 children.
Among the countries where Chinese officially topped the richest list include Thailand's Dhanin Chearavanont (also known as Xue Gor Min - US$14.3 billion), Philippines' Henry Sy Zhi Cheng (US$13.2 billion), Malaysia's Robert Kuok Hock Nien (US$12.5 billion), Indonesia's Robert Hartono (also known as Huang Hui Zhong - US$8.5 billion), Singapore's Kwek Leng Beng (US$7.1 billion), Belize's Huang Maoru (US$1 billion) and Cambodia's Kith Meng (US$0.8 billion).
Source:
http://www.huffingtonpost.co.uk/2013/09 … _hp_ref=uk
http://www.latimes.com/entertainment/en … 5429.story
http://economictimes.indiatimes.com/new … 480854.cms
http://blogs.wsj.com/chinarealtime/2013 … -property/
http://www.belfasttelegraph.co.uk/news/ … 70901.html
http://www.bloomberg.com/news/2013-09-1 … anies.html
http://news.sky.com/story/1140129/china … in-richest