Syrian airforce for the first time on Sunday bombed a Palestinian refugee camp in southern Damascus. Yarmouk, located in Damascus, is the largest Palestinian refugee camp in Syria and home to 150,000 refugees. The number of casualties was not unclear. The Syrian Observatory for Human Rights said eight civilians were killed in the attack near the mosque and a hospital. Other reports, also attributed to activists, put the death toll at 25 or more.
U.S. State Department spokeswoman Victoria Nuland said in a statement, "these latest attacks mark a significant and alarming escalation of the conflict in Syria. All parties must stop unlawful attacks on civilians and comply with international law." Regional response from the Arab world and Iran however, is rather muted in contrast to the recent Israel-Gaza war.
Explaining to the United Nations, Syria's Foreign Minister Walid al-Moualem told U.N. Secretary-General Ban Ki-moon that Palestinians should not offer "shelter or assistance to terrorist groups" in Yarmouk, state television said on Monday. His comments came after Ban's expressed concerns at reports of the air strike.
There are some 500,000 Palestinians in Syria, whose loyalties are divided between the government and the opposition. Some Palestinians have remained loyal to Assad's administration, which has trumpeted itself as an unyielding defender of the Palestinian cause against Israel. Others have sided with the rebels and even enlisted in their ranks.
Following the airstrike, thousands of people are fleeing to nearby suburbs or neighboring Lebanon. Abu Khalil Jalili, a Palestinian who entered Lebanon with his family, said others are not so lucky: "We came here, but most people sleep on the streets in Damascus." Another Palestinian refugee Abu Taha said, "I think that 80 percent have fled. Not all have come to Lebanon; some have stayed in Damascus."
The most visible condemnation came from the Palestinian factions. Hamas said in a statement from Gaza that it "strongly condemns the continued aggression against the Syrian people and we strongly condemn the bombardment of Palestinian camps in Syria".
Yasser Abed Rabbo, general secretary of the Palestine Liberation Organisation, said the PLO held Assad responsible for the deaths during the air raid. "Massacres in Yarmouk camp and everywhere in Syria requires sooner than later the international community to put an end to the regime of terrorism and killing in Syria before it sets the entire region on fire," he told Reuters in Ramallah. "We are following our people's condition in Syria and will take all measures in order to protect our people and on all levels."
http://i.i.com.com/cnwk.1d/i/tim/2012/08/03/Yarmouk_youtube_620x350.jpg
Palestinian Authority Prime Minister Salam Fayyad said Sunday's bombing was "a crime perpetrated by a regime that no longer has any legitimacy". Arab League chief Nabil Elaraby said Damascus was responsible for the safety of Palestinians refugees in Syria. He also called on all sides of the conflict to preserve the safety of the refugees and to keep them out of the fighting.
In Yarmouk, burned body parts littered the ground at the Sheik Abdul Qader mosque, which had offered shelter to Palestinians and others displaced by fighting in other areas. Women, crying children and white-bearded men thronged the streets with hurriedly packed bags, not sure where to look for safety.
For many Yarmouk residents, who are refugees from conflict with Israel and their descendants, the attacks shattered what was left of the Syrian governments claim to be a champion and protector of Palestinians, a position the Assad family relied upon as a source of domestic and international legitimacy in more than 40 years of iron-fisted rule.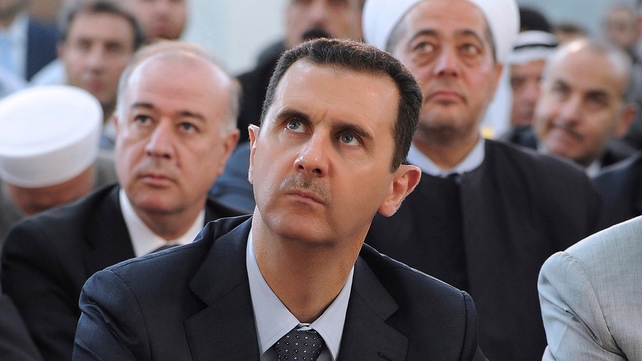 For decades the Assad regime was talking about the Palestinians rights, said a Palestinian refugee who gave his name as Abu Ammar as he debated whether to flee with his wife and five children from the camp. But Bashar al-Assad has killed more of us today than Israel did in its latest war on Gaza. He added: What does Bashar expect from us after today? All of us will be Free Syrian Army fighters.
In Lebanon, the minister of social affairs, Wael Abu Faour, said on Monday that at least 22 busloads of people had entered the country from Syria in the last day, and a majority were Palestinians fleeing Yarmouk. More refugees were arriving on Monday at the border-crossing town of Masnaa, where entry lanes were clogged with Palestinians.
Source:
http://www.nytimes.com/2012/12/17/world … ted=2&_r=0
http://www.timesunion.com/news/article/ … 123241.php
http://news.yahoo.com/syrian-troops-tan … 23769.html
http://news.smh.com.au/breaking-news-wo … 2bk2u.html
http://www.latimes.com/news/nationworld … 9090.story
http://www.voanews.com/content/syrian-w … 65953.html
http://www.independent.co.uk/news/world … 21738.html
http://www.saudigazette.com.sa/index.cf … 1217146266
http://www.trust.org/alertnet/news/syri … n-damascus