China's Lenovo Group Ltd. is now the world's largest PC maker after overtaking Hewlett-Packard Co. (HP)
http://techcentral.my/archives/2012/10/11/it_news/Lenovo%202.jpg
Lenovo is now the world's largest PC maker
According to a survey conducted by research firm Gartner, Lenovo took over the top vendor spot for the first time with 15.7% of the market in the third quarter of 2012, edging HP who had 15.5%. The company's net profit for the three months ended September 2012 rose to US$162.1 million from US$143.9 million a year earlier, Lenovo said. Revenue climbed 11 per cent to US$8.67 billion from US$7.79 billion a year earlier.
The company is not shy to celebrate its new position. "Lenovo became the worldwide number one consumer and notebook PC company in fiscal quarter two and remained as the largest PC company in emerging markets, including China," Lenovo said in the Hong Kong Stock Exchange today.
It is another milestone for Lenovo's Chief Executive Yang Yuan Qing, who succeeded in building the Chinese PC company into the worlds biggest in just 7 years after acquiring IBM's personal computer division in 2005. At that time, IBM was the third largest PC maker after HP and Dell.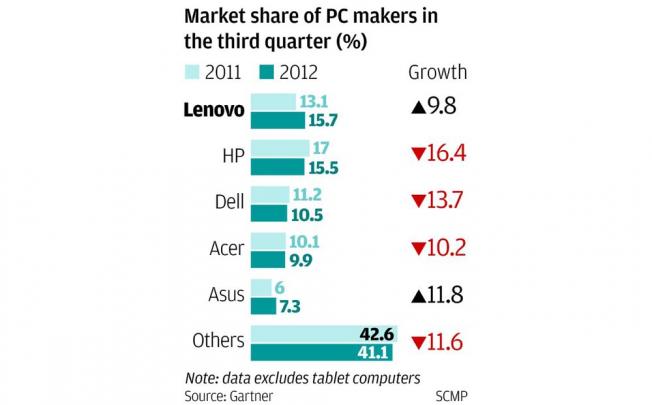 But dominating the world's desktop and laptop computers isn't enough. Yang now wants to extend that dominance to smartphones, competing directly with the likes of Samsung and Apple.
Lenovo has been outperforming rivals such as US-based HP and Dell, with a rise in PC shipments of 10 per cent in the second quarter compared to a year earlier despite softening global demand. Worldwide PC shipments however, have been declining as consumer habits change and more people connect to the Internet through smartphones and tablets instead of more cumbersome personal computers and laptops.
It is therefore, Yang decided to step up development of smartphones, tablets and Internet-ready TVs to widen Lenovo's product line for consumers, make it the Chinese version of Samsung Electronics. So far it has been a success, the companys mobile Internet and digital home unit, which makes smartphones, tripled its sales to $1.31 billion during the first six months of 2012 from $496.7 million a year earlier.
http://maxcdn.fooyoh.com/files/attach/images/3004/881/796/007/Yang_Yuanqing.jpg
Lenovo's CEO Yang Yuan Qing wants the company to be a Chinese version of South Korea's Samsung
Lenovo's mobile unit, which previously sold smartphones only in China, added four new markets last quarter: India, Indonesia, the Philippines and Vietnam, Yang said. Expanding smartphones to other markets, especially emerging markets, is definitely our strategy, he said. We are confident that will work.
Analysts agreed that the company's future outlook is positive. Lenovo is poised to extend its global lead and grow further, Don See, a Singapore-based analyst at Standard Chartered Plc, wrote in a Nov. 2 report. Lenovo achieved its 14th sequential quarter of market share gains when its growth rate outpaced that of competitors in the PC industry.
Shares of Lenovo has climbed 28% this year in Hong Kong Stock Exchange.

HP continues to suffer declining market share in PCs
Source:
http://www.irishtimes.com/newspaper/bre … king8.html
http://www.businessweek.com/ap/2012-11- … 13-percent
http://www.channelnewsasia.com/stories/ … 78/1/.html
http://www.ft.com/intl/cms/s/0/36c9b06e … abdc0.html