Access to the New York Times English and Chinese websites were blocked in China Friday shortly after the newspaper published a report on the vast family fortune of the countrys premier, Wen Jiabao. The story, which suggests Wens family used their influence to amass assets worth at least US$2.7 billion, comes at a highly sensitive time weeks before a once-a-decade leadership transition.

New York Times: family of China's Prime Minister worth $2.7 billion
The report is embarrassing not only for Wen himself who comes from a modest background and is widely portrayed as the sympathetic, populist face of the government working for the poors, but also for the Communist party who claims to represent the working class. It is the latest in a string of unwelcome revelations about the vast wealth amassed by those around senior leaders. Wen has long stressed the need to curb corruption, urging leaders to ensure their families and associates do not abuse government influence, and pushed for officials to disclose the assets of their immediate families.
Details about the private lives and finances of Chinas leaders are strictly off limits for the state-controlled Chinese press. Unlike its Chinese counterparts in Singapore, Hong Kong and Taiwan, China is believed to be pervasively corrupted. Transparency International gave China a score of 3.6, with 10 being the least corrupted. This compared to Singapore 9.2, Hong Kong 8.4 and Taiwan 6.1
Chinese censors regularly block foreign websites and bar access to sensitive stories, both online and on television to the few outlets inside China that receive international broadcasters. Bloomberg for instance, is still encountering difficulties in China after publishing a report in June about the wealth accumulated by the family of Vice President Xi Jinping, the man widely expected to be the next leader of China.
http://www.cuewb.com/files/images/Shanghai_Skyline.preview.jpg
China, a land of wealth, and also cash machine for corrupted officials
A former government colleague of Wen's, who spoke anonymously, told New York Times: "In the senior leadership, there's no family that doesn't have these problems (of corruption) His political enemies are intentionally trying to smear him by letting this leak out." A U.S. diplomatic cable obtained by WikiLeaks, dating from 2007, quoted an executive in Shanghai as saying: "Wen is disgusted with his family's activities, but is either unable or unwilling to curtail them."
In June, Bloomberg News reported that the extended family of Vice President Xi Jinping, who is poised to take over as the next president of China, had amassed US$376 million. Government officials, apparently spooked, took the unusual step of not just censoring online discussion of the story but shutting down Chinese access to the Bloomberg site entirely.
Bloombergs website is still inaccessible inside China without special software that can bypass Chinas so-called Great Firewall, while The New York Times was a banned search term Friday on Chinas massively-popular Sina Weibo, a micro-blogging service akin to Twitter. The newspapers micro-blog account in China was also inaccessible.

Very serious illicit money outflow (black money brought out) from China, in US$ billions
The New York Times said in an emailed statement that its sites were blocked between 5 a.m. and 5:30 a.m. Friday China time shortly after the story was put online. The newspaper launched its Chinese-language site in June, a major effort that required hiring dozens of translators and moving its Beijing bureau into more expansive facilities. The sites servers are located outside of China.
We hope that full access is restored shortly, and we will ask the Chinese authorities to ensure that our readers in China can continue to enjoy New York Times journalism, said Eileen Murphy, a spokeswoman for the newspaper.
China maintains the worlds most extensive and sophisticated system for Internet censorship known as the 'Great Firewall of China', employing tens of thousands of people to monitor what is said online, delete entries that contravene the countrys extensive and unpublished regulations and even write new entries that are favorable to the government.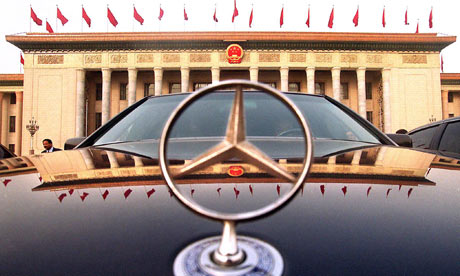 Rebecca MacKinnon, a senior fellow specializing in Internet free expression and privacy issues at the New America Foundation, a nonpartisan group headquartered in Washington, said that the Chinese interruption of Internet access was typical of the response to information that offended leaders. This is what they do: they get mad, they block you, she said.
In recent years, the slowing economy in China and a growing rich-poor gap, which has stalled many families efforts to climb into the middle class, has exacerbated public resentment of officials who are often able to operate on an entirely different level in business because of their connections.
The state-run magazine China Newsweek reported this month that as many as 18,000 corrupt government officials have fled the country with 800 billion yuan (US$128 billion) since the mid-1990s. The number of fleeing officials has risen steadily over the past decade from about 600 in 2003 to over 1,600 last year, with a spike in 2007 to 4,500, the magazine said, citing the national public prosecutor's office.
Source:
http://www.nytimes.com/2012/10/26/world … .html?_r=0
http://www.straitstimes.com/breaking-ne … e-20121026
http://www.guardian.co.uk/world/2012/oc … wen-jiabao
http://www.washingtonpost.com/world/asi … story.html
http://www.channelnewsasia.com/stories/ … 13/1/.html
http://www.telegraph.co.uk/news/worldne … ffice.html
http://thestar.com.my/news/story.asp?fi … rldupdates