yes, manual brake lock such as these:
http://www.skymall.com/images/products/ATO/102535716d.jpg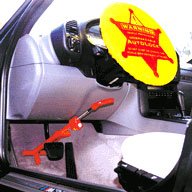 http://www.brothers.com.my/images/car_steering_lock.jpg
its not foolproof but will atleast delays them unnecessarily long enough to make them panic at being spotted or at least those ■■■■■■■ babis will sweat maximum trying to cut thru these steel babes.
and make sure your steering has at least steel in them to prevent the babis from cutting your steering to easily remove the steering lock.
i use them all the times even if its just 2 minute dash into the supermarket. when at the shopping center, make it an habit to check on your car every 15 minutes at least. its cumbersome i know but well worth it compared to crying over stolen car and worse some more kena screwed by heartless insurance company that delays paying you for up to a year and considered yourself lucky if you can get 50% of the insured amount and more worse than all these is those smirks on the faces at the Balai.
i drive an old banger station wagon but i do not want to give the ■■■■■■■ babis the satisfaction of transporting pig-feed in some rural areas or transporting Indonesian laborers in oil palm estates with my stolen car.