Last week, India alerted and seek clarification from Bangladesh on the recent emergence of terror training camps for Rohingya Muslims in its Chittagong Hill Tracts (CHT) region bordering Myanmar. The Bangladeshi government has today confirmed to New Delhi that terror groups like the Lashkar-e-Toiba (LeT) have been recruiting Rohingyas to carry out attacks against Buddhist targets across Asia, as part of their desire to avenge the ongoing sectarian violence in Myanmar.
http://static.ibnlive.in.com/ibnlive/pix/sitepix/07_2013/mahabodhi_bodhgaya_blasts.jpg
India hinted that Rohingya terrorists might have bombed Bodh Gaya, Buddhist holiest site, last month
It was an ongoing Indian investigation into the July 7 serial bomb blast at the Mahabodhi temple in Bodh Gaya, considered the holiest site in Buddhism. The attacks left two monks, a 50-year-old Tibetan and a 30-year-old Burmese, injured and hospitalized. India's National Investigation Agency (NIA) says it got enough indications of possible involvement of Myanmar's Rohingya Muslims, and inquired Bangladesh on their activities in the CHT.
Myanmar has seen increasing sectarian violence in the past two years between its dominant Buddhist majority and the Rohingyas. Described as among "the world's least wanted" and "one of the world's most persecuted minorities", the Muslim Rohingya have continued to suffer from human rights violations under the Burmese junta, and many have fled to neighboring Bangladesh. Now they are facing problems in Bangladesh as well where they no longer receive support from the government. Their newest safe haven is Malaysia.

Bangladesh warns that Rohingya may be trained by militants to attack Buddhist targets across Asia
As a result of the investigation, for the first time the Indian government is worrying about the presence of several thousand Rohingya refugees in India. There are an estimated 5,000 Rohingya living around Delhi, with a particularly large number of them residing in slums along Sona Road near Gurgaon. Officials now red flagged such clusters following evidence that a section of the Rohingya community has been radicalized by pan-Islamist groups.
In India, there are sizeable Rohingya populations in Aligarh in Uttar Pradesh, in Andhra Pradesh, Maharashtra and even Jammu and Kashmir. They are often seen protesting in Delhi outside the United Nations Human Rights Commission asking for UN refugees status, and accusing India of assisting the Myanmar regime in its persecution of the Rohingyas.
http://en.qantara.de/files/20112/19689/5097dbd232940_Buddhistischer_M_nch__AFP_Photo.jpg
The Rohingya's issue threatens to ignite new religious clash in Asia
Intelligence reports from Bangladesh have also confirmed the presence of Lashkar-e-Toiba (LeT) commanders on the Bangladesh-Myanmar border. The LeT, an Islamic terror group, is believed to be recruiting Rohingyas, offering to help them to seek revenge against the Buddhists through terrorist acts.
According to the government of Bangldesh, umbrella organization like Jamaat-ul-Arakan and the Rohingya Solidarity Organization are also running terror training camps in remote areas of Bandarban district of Bangladesh adjoining the Myanmar border. With the Bangladesh-Myanmar border turning into a new theatre of global jihad, the U.S. and other Western powers have begun monitoring the region.

Buddhist temples burnt down in Bangladesh
Bangladesh told India that after the 2012 Muslim-Buddhist clashes in Myanmar, Bangladeshi security agencies made a series of arrests that revealed plans to radicalize, train and fund some Rohingya refugees with the help of Pakistan based terror groups and Saudi Arabian financiers. It was through these suspects that Bangladeshi security agencies came to learn that Al Qaeda and the Islamic Movement of Uzbekistan (IMU) member are already visiting Arakan, Myanmar for recruitment.
With the threat assessment of Rohingya refugees on the rise, the Indian home ministry is planning to order a census of refugees in India as a precautionary security move. New Delhi has also urged Myanmar to take up genuine Rohingya grievances, like their economic and social marginalisation in the country, so to prevent a potential full-blown Buddhist-Muslim clashes in Asia.
http://news.mydosti.com/newsphotos/religion/SLHalalFeb222013.jpg
Buddhist-Muslim clashes widening to India, Sri Lanka, Bangladesh and Indonesia
The Economist reported that there is now fear of a new religious strife in Asia which pits Buddhism against Islam, two of Asia's biggest religions. It was a crack first paved by the Taliban in 2001, who attracted global publicity by dynamiting the giant Buddha statues in Bamiyan. Already, tension is spreading in Southeast and South Asia.
In predominantly-Buddhist Sri Lanka, mosques and Muslim-owned businesses have been targeted by radicals. The hardline Buddhist Strength Force (Bodu Bala Sena, BBS) have used coarse, derogatory language to describe Muslim imams and have told the Sinhalese majority not to rent property to Muslims.

Observers fear increased tension in a region where religious sentiment is high
At one meeting attracting thousands, the organization's secretary, Gnanasara Thero, told each Buddhist present to become "an unofficial policeman against Muslim extremism" and said "so-called democrats" were destroying the Sinhala race. Gnanasara told Muslims in the country that, "This is a Sinhala Buddhist country. We have a Sinhala Buddhist culture. This is not Saudi Arabia. You must accept the culture and behave in a manner that doesnt harm it."
In Mumbai, India Muslims have marched in solidarity with the Rohingyas. Many of India's Hindus and Buddhists are now annoyed that Muslims may have been responsible for the bombing on July 7th of the Bodh Gaya in Bihar, where Gautama Buddha is said to have obtained enlightenment. Buddha was originally a prince from the Indian kingdom of Shakya, and is believed by Hindu to be the ninth reincarnation of Vishnu. In Bangladesh, angry Muslims crowd destroyed hundred of Buddhist homes and temples last year as part of the tension spill-over from Myanmar's religious conflicts. Many Buddhists say they now fear their safety and are relocating to nearby Myanmar.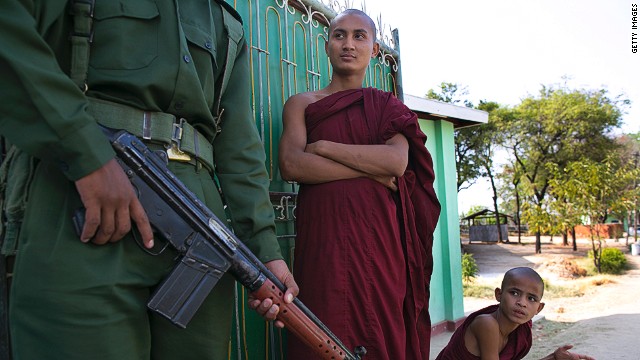 Buddhist-Muslim religious violence has taken roots in South Asia
Thailand's Bangkok Post reported that when Osama bin Laden died in 2011, there was hope of an end to the pernicious religious conflicts afflicting the world, especially the conflicts between the largely Christian West and Muslim Middle East. But with the Christian-Muslim disputes still unsolved, another civilizational clashes, now between the Buddhists and Muslims, threaten to erupt. Mainly Buddhist Thailand has its own Muslim insurgency problems in the south. In multiracial Singapore and Malaysia, Buddhists and Muslims co-exist well, though there is a deepening mutual distrust among both.
As for Indonesia, the biggest majority-Muslim country in the region, Muslims have been helping the Rohingyas through donations. Now the religious solidarity is taking a more violent turn in a country with a record of Islamist terrorism. In early May two Muslim men were arrested for allegedly planning to attack the Myanmar embassy in Jakarta with pipe-bombs. They may have been inspired by an imprisoned radical cleric, Abu Bakar Basyir, who in April called for a jihad against Myanmar's Buddhist population.
http://sheikyermami.com/wp-content/uploads/MosqueBurning-11.jpg
Mosque burning down in Myanmar
India is not the only country who voice concern over the radicalization of Rohingya. Thailand's Prime Minister Yingluck Shinawatra warned earlier this year that the Rohingya in Thailand "might join the southern insurgency rather than seek asylum in a third country".
Source:
http://www.hindustantimes.com/India-new … 02056.aspx
http://articles.timesofindia.indiatimes … ill-tracts
http://www.irinnews.org/report/98213/ri … -sri-lanka
http://www.foxnews.com/world/2013/07/02 … r-edition/
http://www.economist.com/news/asia/2158 … escalating
http://www.bbc.co.uk/news/world-asia-21161354
http://epaperzone.com/index.php/en/news … -attention