http://topworldcities.net/wp-content/uploads/2012/07/Sydney-Skyline-Australia-640x360.jpg
Australia now the strongest economy in developed world
The Swiss pride themselves on their long history of stable democracy, domestic tranquility and international neutrality. The stability of the Swiss state and the Swiss economy is heralded as one of its greatest virtues. Switzerland traditionally run a budget surplus, coupled with high price stability and low inflation rates, make the Swiss franc one of the most solid currencies in the world, a place of refuge at time of crisis.
But now investors have identified another currency of stability. With a GDP growth of 4.3 per cent in the year to March, Australia is now the worlds strongest-performing developed economy. Unemployment remains low at 5.2 per cent, while inflation is only 1.2 per cent.
Against the Euro, the Australian dollar is extending its march for an 11th weekly advance in the past 12, it also rallied against the British pound, reaching as high as 67.49 pence, its highest level since early March. On the U.S. Dollar, it touched a four-month high at $US1.054.

Australian Dollar - new most stable currency?
In a recent talk, Glenn Stevens, Reserve Bank of Australia governor, touched on the important role the Australian dollar plays in times of economic strife. He told the audience that if there were a serious slump in China, the Australian currency would probably fall, providing a much-needed relief to the domestic economy, whose competitiveness suffered under high currency rates.
The logic was obvious. Because of Australias vast mineral wealth and large mining industry, the Aussie is widely regarded as a commodity currency and, by extension, closely correlated to Chinese growth. As China slows, the currency falls, and trade-exposed sectors of the economy get a boost from a lower exchange rate.
Indeed, prices for iron ore, Australias biggest export, sank to a two-and-a-half-year low of $115 a tonne on Tuesday driven by concerns about Chinese steel demand. Another important export, coal, likewise slumped throughout much of 2012. Supposedly the Aussie Dollar would fall, but instead it continues to hit new high.
http://im.media.ft.com/content/images/c388ac64-dbfc-11e1-86f8-00144feab49a.img
The reason? Money has poured into the Australian currency from central banks around the world and even individual investors looking for a higher return as interest rates slide towards zero in the US, Japan and Europe.
"In July 2008, just ahead of the onslaught of the global financial crisis, Japanese households held roughly 25 per cent euro and 10 per cent Aussie," said Mr Rennie, Westpac's chief currency strategist. These days, such cashed-up households have reversed that ratio. Japanese investors have broken their "slavish devotion" to the euro and the greenback and channeled their money into Australian dollars in a show of how much perceptions have shifted, he said.
Governor Stevens outlined a scenario of a break-up of the Eurozone, that might result in a larger flow of funds into Aussie-denominated assets. In that case our problem might be not being able to absorb that capital, Mr Stevens said. Australia is now one of only seven countries to have a triple A rating, with a stable outlook from all three major agencies.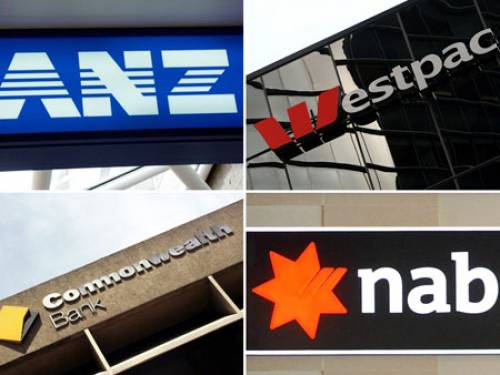 NAB, Westpac, Commonwealth and ANZ, Australia big 4 banks are absorbing money inflows at rapid pace
Diversifying away from US dollars has been a phenomenon that has been around for several years, says Warren Hogan, chief economist at ANZ in Sydney. I get a sense that these flows into Australia in the last six months have been more about diversifying away from Europe by both private and public investors.
In the past month, say traders, the central banks of Germany, Switzerland, Kazakhstan, the Czech Republic and Vietnam have either bought or are considering adding the Aussie to their foreign exchange reserve portfolios.
In fact, Switzerland, which has been dubbed the new China because of the huge forex reserves it has amassed, started buying the Australian Dollar themselves nine months ago, according to local media reports and has established a trading panel of banks to oversee buying of Aussie-denominated assets.

Australian wealth to more than double within a generation
Six years ago we used to talk to less than nine central banks, says Richard Grace, chief currency strategist at Commonwealth Bank of Australia. Today we speak to more than 50 and we know they are adding the Aussie to their reserves.
Source:
http://www.ft.com/intl/cms/s/0/99d53bf8 … z22QRouLVF
http://www.theage.com.au/business/marke … 23hap.html
http://www.theaustralian.com.au/busines … 6429610884
http://www.cnbc.com/id/47943262/Is_the_ … n_Currency
http://www.abc.net.au/news/2012-07-11/a … rd/4124228
http://ewallstreeter.com/australian-dol … atus-4014/
http://www.safehaven.com/article/26263/ … -why-again