[size=150]Antabax & AEON Launch Rising Together, Miracle Pine Campaign In Aid of Charities Supported By the Malaysian AEON Foundation[/size]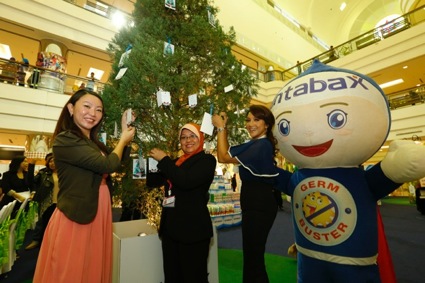 The Antabax antibacterial personal care range and leading retailer AEON CO (M) Berhad are collaborating to celebrate and support the determination and perseverance of underprivileged Malaysians through the Rising Together, Miracle Pine charity fundraising campaign that was at the 1Utama Mall, here, today.
The Rising Together, Miracle Pine campaign will run from December 27, 2013 to April 30, 2014 and will see 10% of sales from all Antabax products through AEON outlets nationwide channeled to the With All Our Hearts (WAOH) Malaysian AEON Foundation. The Malaysian AEON Foundation will then disburse these to deserving homes.
The launch of the fundraising campaign was a fun-filled affair with consumers flocking in to show their support by making pine-shaped origami with personalized messages that they hung on a 3-meter pine tree. The messages will be shared with the children from the charity homes to encourage and motivate them. Antabax brand ambassador, well-loved Malaysian singer and actress Ziana Zain performed specially for the children, while games, quizzes and a special photo booth kept visitors entertained.
The Miracle Pine of Rikuzentakata inspired the campaign. This 250-year old pine tree was the sole survivor of the March 2011 tsunami in Japan that swept away more than 70,000 treesin the area. While the pine tree eventually died from salt water poisoning, the towns people raised funds to carefully preserve the Miracle Pine,as it had become a symbol of hope against all odds, determination and perseverance.
According to Lam Soon Edible Oils Sdn Bhd, Group Product Manager, Ms Angeline Sim the Rising Together, Miracle Pine campaign is the brands first fundraising collaboration with leading retailer AEON and is part of its on-going Corporate Social Responsibility activities that have benefited hundreds of underprivileged people.
The Antabax team was touched by the story of the Rikuzentata Miracle Pine when we heard about it, and our latest variant is named Pure Pine. We put the two together, and the Japanese heritage of the Miracle Pine led us to seek out AEON as the most suitable partner through its charity foundation, Malaysian AEON Foundation. While this is our first collaboration with AEON, Antabax has been actively supporting the underprivileged, including children and old folks, through our CSR activities, Ms Sim said.
She explained that the campaign aims to encourage orphaned and abandoned children not to lose hope, to be determined and to persevere in the face of adversity with the Miracle Pine as their example. The contribution of funds from Antabax is aimed at easing some of their material needs.
At Antabax, we take the plight of orphans and abused children seriously as many of them go through more challenges and hardships in their tender years than even we adults have faced. While Antabax cannot erase the hurt, what we can do is raise funds to ease some of their material needs such as food, clothing, books, transportation, tuition fees, rehabilitation equipment and such, Ms Sim explained.
The brand will be contributing 10% of sales from any of its antibacterial personal care products purchased from all AEON outlets nationwide, for the next four months. The products include shower cream, bar soap, hand soap, antibacterial wipes, hand sanitiser gel and hand sanitiser spray.
We will be contributing one-years supply of our products to these homes, so that another of their daily needs will be met. In addition, we will also be embarking on a tree-planting exercise to commemorate the Miracle Pine and our Pure Pine range.
We hope that it will be a functional reminder of hope for the environment and determination to keep it green and clean, she said.
The With All Our Hearts (WAOH) Malaysian AEON Foundation is the entity that runs all the major charity events and community services under AEON. The foundation, started up from a charity fund, has been operating for 10 years and benefits thousands of people in various aspects. AEON is the first and the only retailer that has its own charity foundation in Malaysia.
According to Senior Manager of Corporate Communication & Branding of AEON and also the Secretariat of Malaysian AEON Foundation, Puan Nor Laila Mohd Samin, the foundation is keen to partner with organizations that share similar values when it comes to charitable giving and serving the underprivileged.
The Malaysian AEON Foundation has a proven track record of helping thousands of people. We are always on the lookout for organizations and brands that are sincere and eager to give to the underprivileged. Our collaboration with Antabax through the Rising Together, Miracle Pine campaign, will see a very generous contribution of 10% from total sales throughout the campaign period towards deserving homes, said Puan Nor Laila.
To date, the Foundation has raised and donated more than RM 3million to various organisations and needy individuals in Malaysia, irrespective of race, religion and creed.
Homes are in need of assistance, be they orphanages or old folks homes. The funds will also be used to provide financial aid for the education of poor children, living environment or medical assistance, as required. We hope that AEON patrons will be supportive of this charity initiative, as they have done in the past, Puan Nor Laila added.
Antabax celebrity brand ambassador, Ms Ziana Zain performed two songs especially for the guests at the charity fundraiser launch.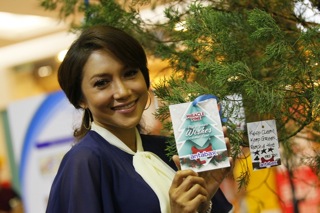 I feel deeply for these children who may not have loving parents to care for them. They must struggle for the things that our children often take for granted. Im proud to be part of the Rising Together, Miracle Pine campaign and hope that we can raise more funds to help these little ones, Ms Ziana Zain said.
To find out more about the Rising Together, Miracle Pine charity fundraising campaign please visit http://www.facebook/NewAntabax.