The al-Qaeda group in Lebanon, who unleashed two suicide bombings against the Iranian Embassy in Beirut last November, has vowed to strike Iran and Hezbollah following the death of its leader in Lebanon. "The project of our leader, Majid al-Majid, will be maintained by attacking Iran and its party (Hezbollah) even after his death," a statement from the group said. "Majid passed away after he laid the foundations for an ambitious project and after years of raising up men capable of managing his project after his passing," it added.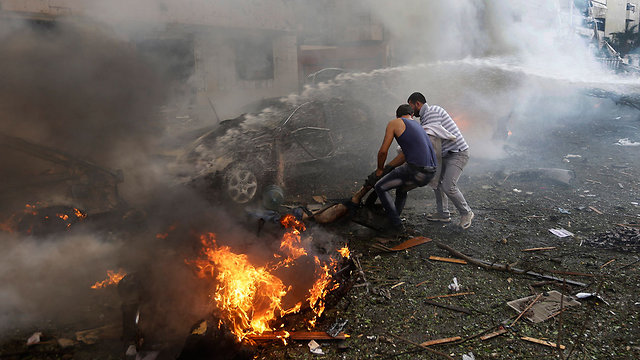 After bombing Iranian embassy, al-Qaeda threatens to strike directly into Iran
Last month, the Lebanese Army apprehended Majid, who later died while at a military hospital in Beirut. Saudi national Majid was wanted by the U.S., Lebanon and Saudi Arabia among other Arab states for allegedly carrying out terrorist attacks across the Middle East. His remains was repatriated to Saudi Arabia last week. The al-Qaeda group accused Iran and Hezbollah of killing Majid, saying his condition worsened in detention. The Sunni extremist group also blamed the Lebanese army of being complicit with the Iranian-backed Shiite Hezbollah.
CBS News correspondent Clarissa Ward, reporting from Beirut, noted that there is currently a struggle for regional power between the two main branches of Islam. Iran and Hezbollah are Shiite, which makes them natural allies to the Assad regime in Syria, who is fighting a Sunni rebellion funded by oil-rich Sunni states like Qatar and Saudi Arabia.
http://www.aawsat.net/wp-content/uploads/2013/06/iran-e1370273709567.jpg
Iran is seeking to destroy al-Qaeda from its region
For its part, al-Qaeda said that it is now planning to assassinate Iran's top military general, Qassem Soleimani, of Iran's elite Revolutionary Guard Corps (IRGC). "We will not assassinate the commander of Iran's Quds Force by gunshots, but we intend to kill him by a suicide attack, al Qaeda was reported to have said in its statement. While Iran and al-Qaeda have been known to work together on various terror operations targeting the West, their ties have deteriorated in recent months as Tehran looks to flex its regional muscle, according to experts.
Iranian military insiders quickly dismissed al-Qaeda's threats to the Islamic Republic. "Military analysts believe that such threats and warnings are all nonsense and merely serve psychological operation purposes since the Iranian military commanders are protected by heavy security measures and cannot be reached easily, while the al-Qaeda lacks sophisticated skills, ability and the needed organization in Iran," news agency Fars reported.
http://cdn.frontpagemag.com/wp-content/uploads/2013/11/334570_Lebanon-Bombing.jpg
The Sunni-Shiite dispute resulted in bombings across the Middle East
Iran and al Qaeda have been allies of convenience in their war against the West despite sectarian differences. The 9-11 Commission that investigated the Twin Towers terror attack found evidence that Iran and al-Qaeda had worked together on multiple operations and fronts. "While the two sides - on opposite ends of the sectarian divide - have been willing to cooperate against the United States, following the U.S. withdrawal both from Afghanistan and Iraq, and also the war in Syria, they have once again turned against each other," said Michael Rubin, a terrorist analyst and former Pentagon adviser on Iran and Iraq.
In Tehran, Brigadier General Mohammad Hejazi, deputy Chief of Staff of the Iranian armed forces, says if necessary, the Islamic Republic is prepared to give military equipment to Iraq to fight al-Qaeda. Iraqi media had earlier claimed that the United States and Iran, even though they are enemies, are now contributing troops together to fight al-Qaeda in Iraq. Iraq Defense Ministry spokesman, Mohammed al-Askari, said that Iraqi forces had destroyed two camps belonging to an al-Qaeda-linked militant group in the western province of Anbar. Iran is an ally of the Shiite-led government in Baghdad.
http://www.thenewstribe.com/wp-content/uploads/2013/03/Iraq1.jpg
The United States is relieved that Iran and al-Qaeda is now fighting each other
Washington and Tehran also share another surprising motive: to save the Assad regime in Damascus from Al Qaeda's long arms, who are increasingly becoming prominent in the Syrian civil war. Russian Foreign Minister Sergey Lavrov noted that: "Attitudes are changing in Western countries; they are becoming more realistic in their approach towards the Syrian crisis. The threat of terrorism in Syria, of which Jihadists coming to power after the fall of Assad, and creating a caliphate with extremist laws, these are the real main problems." Russian President Vladimir Putin is reportedly working with Washington in hope to keep al-Qaeda away from the Winter Olympics at Sochi.
Source:
http://www.cbsnews.com/news/al-qaeda-gr … e-at-iran/
http://www.usatoday.com/story/news/worl … n/4471293/
http://www.dailystar.com.lb/News/Lebano … z2qQM54DSw
http://freebeacon.com/al-qaeda-threaten … ry-leader/
http://www.debka.com/article/23558/US-a … da-in-Iraq